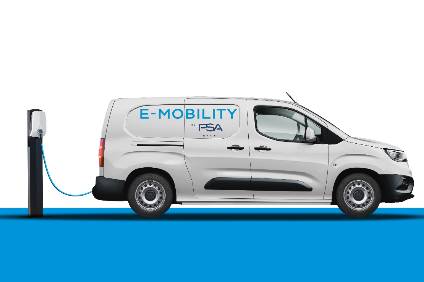 PSA said it would launch all-electric versions of its compact van line in 2021.
The group's own four brands will all offer the new model as will Toyota which buys a rebadged variant from PSA for its European commercial vehicle model line.
The launch of the Vauxhall and Opel Combo-e, Peugeot e-Partner and Citroen e-Berlingo van will take PSA closer to its goal of electrifying its entire LCV line in Europe electrified before the end of 2021.
The Vauxhall Combo-e, Opel Combo-e Life, Peugeot e-Rifter and Citroen e-Berlingo passenger car variants will also be available in BEV form.
The electric compact vans and their battery packs will be assembled at the Vigo plant (Galicia, Spain), the electric motors in Tremery (France) and the final drive gears in Valenciennes (France).
The vans are built on PSA's eCMP platform and the powertrain is a water cooled 50kWh electric battery allowing power outputs of up to 100kW, a 100kW/136hp electric motor and an onboard charger available in two levels of power (7.4kW single phase and 11kW three phase).
Xavier Peugeot, head of PSA's LCV business unit said: "With these all electric versions of compact vans and associated passenger cars, PSA Group is continuing its electrification offensive and now offers a completely electrified LCV portfolio without compromises on performance."
Toyota said separately its version would be called Proace City and will join the (also PSA built) battery electric Proace medium duty van in its range.
The Proace City Electric will be available with a 50kw/h lithium-ion battery and Toyota gives maximum power output of 134bhp, "ensuring smooth operation in low emission zones".
It will be on sale before the end of 2021.