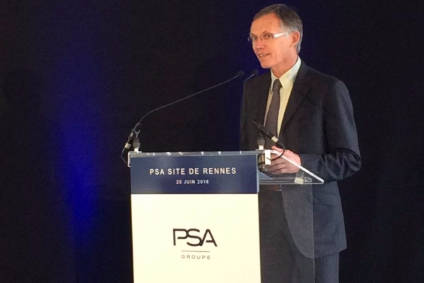 PSA says its labour bodies are "not easy" partners to work with, but acknowledges the spirit of cooperation which has reigned at the French manufacturer for the past few years despite challenging union relations.
The automaker made the comments after unveiling first half results bucking some of the recent gloomy announcements elsewhere, with net profit rising steeply by 24% to EUR1.83bn (US$2.04bn).
"When I said it was challenging, what I meant [was] we have unions which are very demanding and I think this is good," PSA chairman, Carlos Tavares told just-auto from Paris. "It is important they keep us focused on what we need to do to protect our people and we share the same vision, which is the performance of the company. That is why it is challenging.
"They are not easy partners, but they ask the right questions and put the right pressure on the right topics. They understand what co-construction means. This is something we share with our unions and we have strong support from them. We still continue to argue and express the fact we are not happy with everything we do. They accept I continuously challenge them.
"Finding the right thing to do is not always easy. A few months ago, I was asking most of my unions if we would ease the pressure on the accelerator. I was really pleased by the fact they were telling me, please, please don't ease it, keep it flat out.
"They understand if we start being too sophisticated on the accelerator pedal pressure, we risk profitability – it is very mature of them. Our interaction is to find more ideas, better ideas."
PSA's half-year net income impressed, up EUR351 to EUR1.83bn, while recurring operating margin increased 8.7%.
In 2019, the Group anticipates a decrease by 1% of the automotive market in Europe, by 4% in Latin America, by 7% in China and growth of 3% in Russia.
Automotive division revenue amounted to EUR30.4bn, down 1.1% versus 2018 H1, mainly driven by product mix (+2.9%) and price (+1.3%), which partially offset the decrease of sales to partners (-2.2%), the negative impact of exchange rates (-0.8%), volumes and country mix (-1.4%) as well as others (-0.9%).