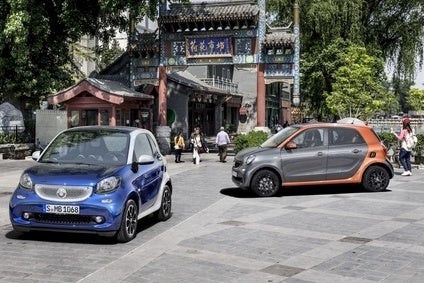 Chinese electric vehicle (EV) manufacturer Smart Automobile has signed an agreement with Malaysia's Proton Holdings for distribution of vehicles in Malaysia and Thailand.
Smart, a joint venture established in 2019 between Mercedes-Benz and China's Geely Group, will work with Proton Edar, Proton's national vehicle distributor, to expand into the two south-east Asia markets.
As part of the agreement, Proton Edar undertakes to establish multi-channel sales and service networks in Malaysia and Thailand for the Smart brand, including brand experience centres.
Geely Group is the largest Mercedes-Benz shareholder and also owns a 49% stake in Proton Holdings which is increasingly reliant on its Chinese partner for its products.
Syed Faisal Albar, chairman of Proton Holdings, said in a statement: "Proton is taking its first steps on its New Energy Vehicle strategic journey. By collaborating with Smart, we will gain experience in selling servicing, and charging of NEVs and build up the skillsets required to be a force in ASEAN's rapidly expanding NEV sector. This is also an opportunity to tap into Smart's customer base which will open up more opportunities for the Proton brand."
Smart global CEO Tong Xiangbei said: "With our 'dual-home' (Europe and China) business strategy, our company already covers two of the world's largest automotive markets. Now, as part of our forward-looking strategy, we are joining hands with Proton in south-east Asia. With minimal investment, the agreement will allow us to enter the Thai and Malaysian markets in the near future".
Tong added: "As our regional partner, Proton has a first-class corporate reputation, extensive experience and valuable knowledge of local operations. We look forward to working together to provide consumers with a new, premium, intelligent, all-electric driving experience."