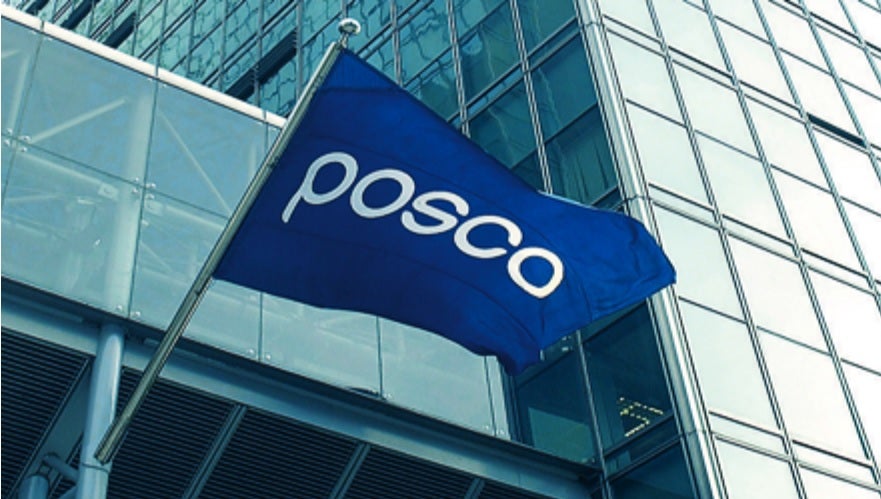 Posco Chemical Company announced this week it had signed an agreement with UK-based electric vehicle (EV) battery startup Britishvolt for the joint development and supply of components for EV batteries to be produced in the UK.
Britishvolt is building a plant in Northumberland in north-eastern England which will have an eventual EV battery production capacity of 38 gigawatt hours (GWh) per year, with a second plant scheduled to be built in Canada with an annual capacity of more than 45 GWh.
The company so far signed preliminary contracts to supply EV batteries to UK-based automakers including Aston Martin and Lotus Cars.
Posco said in a statement the preliminary agreement paved the way for the establishment of a strategic partnership for the secure supply of sustainable materials for Northvolt's global operations which would help improve the business competitiveness of the UK company.
The South Korean steel and chemicals giant said the agreement would also allow it to accelerate its expansion into Europe where it planned to produce raw materials and components for EV batteries, and also to diversify its customer base.
Posco said the two companies "will work to establish a stable supply chain, including securing the raw materials for battery components and ensuring local production in Europe".
The European Union has agreed to pass legislation banning the sale of new internal combustion engine vehicles by 2035 as part of its commitment to reduce carbon emissions.
Posco Chemical president Min Kyung-zoon said in a statement: "The cooperation between Britishvolt, a pioneering battery cell developer and producer committed to creating environmentally friendly, low carbon, sustainable, lithium-ion batteries, and Posco Chemical, which has a stable supply chain, will further enhance the competitiveness of both companies."
Britishvolt CEO Orral Nadjari said in a statement: "We're delighted to be partnering with Posco Chemical, a world leader in its field. Our memorandum of understanding (MoU) with Posco paves the way to providing Britishvolt with a secure supply of active battery materials as we start to ramp up pilot production prior to switching to volume manufacture of battery cells at our Northumberland plant in the coming years. This is perfectly aligned with our own strict ESG principles & commitments and underscores our business model of partnering early with the supply chain to ensure we can manufacture cells for customer requirements".
Posco is also building a cathode production facility in Quebec, Canada, in the joint venture with General Motors, which is scheduled to come on stream in 2024 with a production capacity of 30,000 tons of high-nickel cathodes per year, enough for 220,000 EVs. It has also established a joint venture in China with Huayou Cobalt, China's largest cobalt producer, to produce 35,000 tons of high-nickel cathodes per year from 2023.