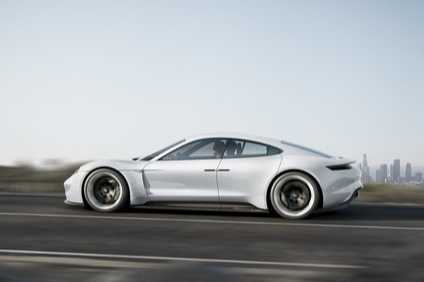 The upcoming fully electric Porsche Mission E will be sold in a number of different model variants with differing power outputs, according to a report in Autocar.
The company confirmed in December 2015 that it was developing an electric car based on the Mission E concept and that it would be built at Stuttgart-Zuffenhausen. The vehicle is due to be launched at the end of the decade.
Speaking to Autocar, Porsche chairman Oliver Blume said that the Mission E will sit in the segment below the Panamera and that there would be a model range for different options. "We will think of different options," he said. "There will be more than one, with different levels of power."
Blume also told Autocar that Porsche is working on providing the Mission E with software that will allow over-the-air updates. "It isn't decided yet, but it could be possible to charge up with more power. For example, when you have 400bhp, it could be possible to upgrade to 450bhp."
The magazine also said that the first roadgoing prototypes of the Mission E are now undergoing construction at Porsche's research and development centre in Germany. Blume said the cars will begin testing in summer in a planned two-year development phase.
The Mission E sits on one of three new electric car platforms being developed within VW Group.
The all-wheel drive four-door Mission E concept shown at the Frankfurt Show in 2015 develops a total power of over 600 hp (440kW) and comes with a claimed driving range of over 500 kms. Porsche also says that an innovative 800-volts battery charging system ('Porsche Turbo Charging') re­duces charging time to "just slightly longer than it takes to fill a car's fuel tank today". At the quick charge station, it takes just over fifteen minutes to provide enough charge for around 80 per cent of the total range.
Porsche says the drive system of the Mission E is entirely new, yet it is also proven in motor racing. Two permanently-excited synchronous motors (PSM) – similar to those used in the Le Mans 919 hybrid – accelerate the sports car and recover bra­king energy.