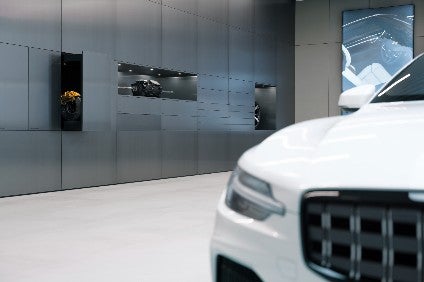 The first Polestar Space will open in the middle of 2019 in Oslo, Norway, one of the most developed electric vehicle markets.
The location in Oslo will be the first to show the automaker's innovative and modern brand and retail concept, and is the start of a global network that will include around 60 spaces by mid-2020.
Located downtown on Ovre Slottsgate, the Polestar facility will be situated amongst other progressive brand stores in a prominent retail environment.
"Polestar will redefine the vehicle ownership experience and the relationship customers have with their car manufacturer," said CEO Thomas Ingenlath.
"Polestar Spaces are an important part of our customer experience, and where we will physically meet our customers. As Norway is one of the world's most important electric vehicle markets, it is logical to begin the story in Oslo."
Spaces will be built on the design concept that Polestar is working on in its retail lab environment in Gothenburg, Sweden, and are set to redefine the way people interact with a car brand.
Polestar will offer a fully digital retail experience that allows customers to do everything online. However, if they wish, the space will allow customers to meet experts, see cars in person and take a test drive, in an avant-garde environment that is designed to take the pressure out of the retail process – the facilities will be staffed by non-commissioned product experts rather than hard-selling sales executives.
"We are working on signing-up a number of other locations around the world," added Ingenlath. "The global footprint has started to take shape."