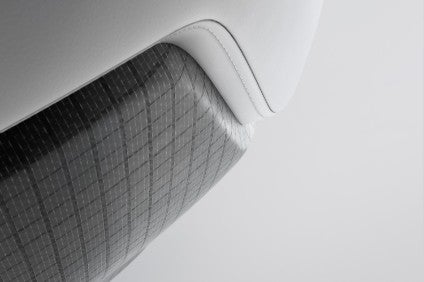 Geely and Volvo Cars owned EV sportscar brand Polestar is eyeing new ways to cut plastic content and lessen waste material with innovative natural and recycled source materials.
Bcomp's revolutionary powerRibs and ampliTex technology "could turn natural fibres into lightweight and safety-conscious interior panels for future production models", the automaker said.
The composite utilises flax, which differs from many bio-materials as it is both ideal for use in crop rotation programmes and does not directly compete with food crops.
With up to 50% reduction in overall weight and an 80% reduction in plastic content compared to traditional interior panels, Bcomp enables a significant weight saving by being stronger and lighter than traditional plastics.
A 3D-knit material, well-known in the fashion and active footwear industries, can be used for seating surfaces to reduce waste and promote recycled material. A single thread is used to produce a three-dimensional individual component in its entirety and the base material is 100% recycled yarn derived from PET bottles. Waste is removed in the production process since the material is made exactly to size with no offcuts.
Cork and fishing nets can be recycled for car interiors. Waste material from the cork manufacturing process and even whole bottle stoppers can be integrated into PVC interior componentry.
Recycled Nylon 6, derived from discarded fishing nets, can be turned into woven carpets and is gathered through an international collection network to infinitely regenerate this material and accept returned products from customers and consumers.
Polestar introduced a 'vegan' interior with its first 2 model.