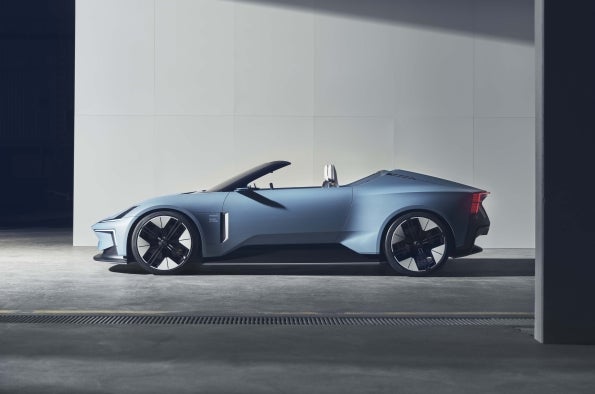 Geely-owned Polestar has revealed a new concept car that it claims, 'redefines sports roadsters for the electric age'.
Named Polestar O2, the hard-top convertible also showcases advances in sustainability and technology. A new thermoplastic mono-material features extensively in the interior. The term "mono-material" describes the use of a single base material to manufacture different components.
In Polestar O2, recycled polyester is the sole material used for all the soft components of the interior: foam, adhesive, 3D knit fibres and non-woven lamination. This simplifies recycling and is a significant step towards greater circularity, while also reducing weight and waste.
Polestar sustainability teams believe that materials should be recycled, not downcycled. In Polestar O2, they have integrated a new method of controlling recycled content and improving circularity of metal components.
Different grades of aluminium are used throughout the chassis to help deliver a thrilling driving experience. The company says these different grades are labelled, allowing them to be recycled more effectively and for their properties to be retained. High grade aluminium remains high grade, while other grades maintain their varied characteristics, allowing for greater material efficiency and a lower requirement for virgin aluminium.
In a world increasingly driven by social media, the Polestar O2 features an autonomous cinematic drone integrated behind the rear seats. Developed in collaboration with Aerofugia's consumer electronics brand Hoco Flow, the concept drone can be deployed while the car is moving, to record the perfect driving sequence.
Polestar engineers have developed a specialised aerofoil that raises behind the rear seats to create a calm area of negative pressure that allows the drone to take off when the car is on the move. The drone operates autonomously, automatically following the car at speeds up to 90 km/h, and the driver can choose between an atmospheric sequence – great for a coastline cruise – or a more action-filled sequence with a sportier expression. After filming, the drone can autonomously return to the car. Video clips can be edited and shared directly from the 15-inch centre display when the car is parked.
Polestar plans to launch three new cars over the coming three years, starting in 2022, each of which has potential to gradually realise some of the ideas presented by these concept cars.
Polestar also intends to list on the Nasdaq in a proposed business combination with Gores Guggenheim, Inc., which is expected to close in the first half of 2022.