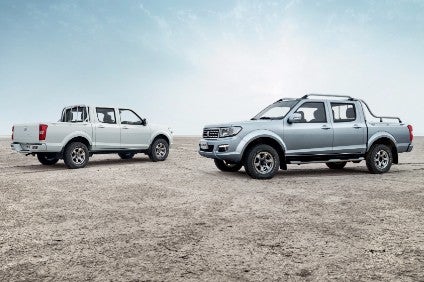 Peugeot is returning to the African pickup truck market with a double cab model apparently sourced from China.
PSA said the segment represents 10% of the target market, including the North African and West Sub-Saharan African countries, which is a volume of about 56,000 units a year. There, diesel engines and 4×4 transmission occupy dominant places in the market with 92% and 77% respectively.
Peugeot last fielded the 504 pickup built until 2005 in Nigeria.
The load zone is 1.4m long and 1.39m wide, with anchor hooks on the outside. The side walls and the real panel are completely covered with a protective resin which adds to the rigidity and robustness of the whole vehicle. The maximum payload of the vehicle is 815kg.
The truck has a 2.5-litre, I4, common rail turbodiesel engine developing 115bhp and 280Nm, with a manual five-speed gearbox. It is available in 4×4 and 4×2 versions.
Manual air-conditioning, electric windows, radio with CD player and USB port are standard along with ABS braking with brakeforce distribution, rear parking aids, passenger and driver air bags, plus electrically adjustable exterior mirrors.
According to just-auto's product life database PLDB, this model is a modified version of the aged Zhengzhou Nissan Rich, a built-in-China pick-up.
In November 2016, Groupe PSA and and STAFIM, Peugeot's long-term partner in Tunisia, signed a letter of intent to assemble and sell a Peugeot pick-up truck in the country. This planned assembly plant, the location of which was not stated, will start operations in mid-2018, producing 1,200 units annually for the Tunisian market.