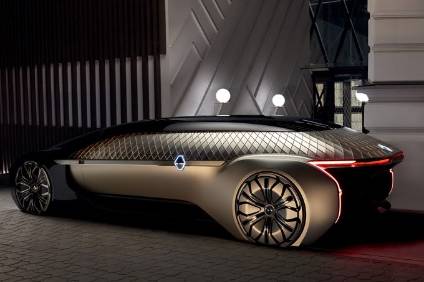 At the Paris Motor Show Renault has unveiled 'EZ-Ultimo', described as a 'robo-vehicle concept' that comprises an autonomous, electric, connected, and shared mobility service solution 'offering a premium travel experience'.
Renault says that the concept is aimed at on-demand availability, for a single trip, for an hour or for a day and caters to people looking to 'enhance a special moment through a private trip in a city, a premium tourist experience or businesses looking to offer premium journey services to its clients'.
Renault says the EZ-Ultimo concept embodies Renault's 'heritage French Design and Easy Life principles'. Its design is an element that 'sets it apart without sacrificing functionality', Renault claims.
Renault also says the vehicle is a 'cozy cocoon' in which up to three passengers view the city or the road 'from a novel perspective during their ride'. Renault also describes the private space as a 'sort of contemporary first-class lounge that is accessible to all'. The interior includes the use of 'rich wood, marble and leather', allowing passengers to 'enjoy a relaxing and immersive drive while taking advantage of onboard services and specific content for a premium experience'.
The car concept is equipped with level 4 autonomous driving capability and can connect to urban environments and highway infrastructure, such as going to an airport or from a hotel to a tourist site.
EZ-Ultimo is the third in Renault's family of concepts focusing on autonomous, electric, connected, and shared urban mobility services. EZ-Go embodies shared urban mobility for all and EZ-Pro is a last mile freight/parcel delivery van concept. Renault says the trilogy of 100 % electric and shared mobility solutions 'expand and complete Groupe Renault's vision for a future-friendly mobility system'.