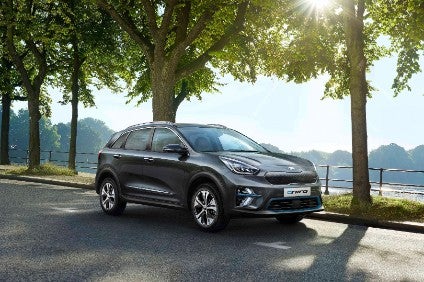 Kia's star of the Paris show came all the way from Hollywood – although not literally.
The South Korean brand unveiled Robert de Niro as the man to head up the advertising campaign for its new EV, the eNiro. The Hollywood star made a brief appearance on the show stand's big screen – one of the few surprises at the Paris show – another was the appearance of former soccer player David Beckham on the Vietnamese Vinfast booth.
Kia Europe chief operating officer Emilio Herrera said the eNiro would "open the door to mass market electric motoring" with a range of 485km (300 miles) on a single charge. To illustrate the point, Kia set one on the road from the South of France on the morning of the show to travel the 485kms to Paris.
Herrera added: "With our EVs, hybrids and plug-in hybrids we are accelerating our move into electrification and we aim to be among the leaders in this field."
The electric version of the hybrid model will be launched in Europe towards the end of this year with two power variants, 39kw and 64kw. A 54 minute recharge will give the battery up to 80% of its capacity.
Also launched on the Kia stand was the latest version of the Proceed, the halo model of the Slovak-built Ceed. This is now in 'shooting brake' form to make it "more accommodating and more adaptable" according to chief designer Gregory Guillaume.
It will be built alongside the Ceed hatchback and sport wagon models at Kia's European plant in Zilina. It goes on sale in Europe towards the end of this year.