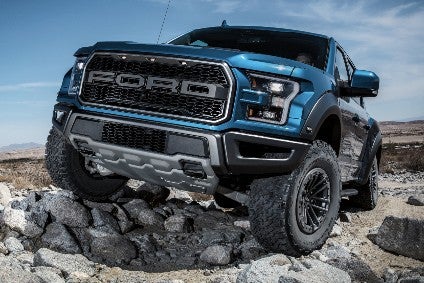 Ford Motor Company will soon be revealing the next generation of the world's best selling vehicle. The new F-150 pick-up will have a new frame and aluminium panels as well as a range of fresh and updated engines. Production is scheduled to start at Dearborn Truck on 28 September.
As well as build at the site in Michigan near Ford's world headquarters, Kansas City Assembly Plant will also manufacture the new model. This facility, which is in Claycomo, Missouri, should start series production on 26 October.
The most dramatic changes to the truck's appearance will be at the front end. Where most versions of the current model have large horizontal slats extending into the headlight modules, the new grille is believed to have a wire-effect look and the DRL will be differently shape. The F-150 EV should have a body-coloured plastic panel where a grille would be, as per the Mustang Mach-E.
Technology-wise, rear-wheel steering is expected to feature, and the propulsion line-up will include four-, six- and eight-cylinder gasoline engines, along with a six-cylinder diesel plus hybrid and electric variants.
Customers will reportedly be able to place orders for the 2021 model year F-150 from 15 June.
New editions of the F-Series Super Duty trucks will not be arriving just yet: the current F-250-F-550 range only dates to CY2016 so the replacements are at least a year away.
As for the Raptor, a new one won't be in dealerships until the second half of CY2021. Details of the 2022 Raptor as well as the imminent P702 F-150 trucks can be found in PLDB, the current and future models database.