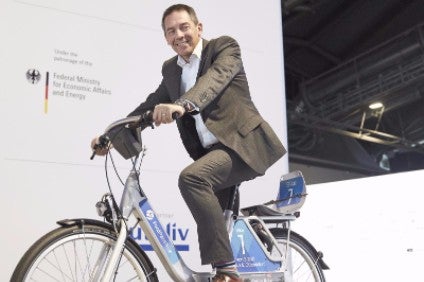 Germany's automotive industry association (VDA) president is urging carmakers to view other transport modes as operating in tandem and not in competition.
Matthias Wissmann made his comments as part of last week's (13 September) New Mobility World evening at the IAA in Frankfurt.
To underline the point, Ford group vice president and president, Europe, Middle East & Africa, Steven Armstrong arrived at the event on a bike to illustrate the automaker's collaboration with Deutsche Bahn Connect to provide mobility services from car sharing to cycle use.
Next month, 3,200 FordPass bicycles will be made available via Deutsche Bahn's Call a Bike hire system to cyclists in Cologne and Düsseldorf, as Ford of Germany becomes the first car maker to help deliver a bike sharing service in Europe.
"We are not think [ing] other transport modes are our enemies, no, they are our partners," said Wissmann. "The challenges, especially in big cities, we can only solve together.
"Car sharing and bikes – all of them have to be connected and connectivity is one of the key words. Best automation, best electrification, best mobility sservices and urban mobility, those are the four or five key headlines.
"This is a motor show and we show the whole disruption in our industry. Nothing is like it was ten or 20 years before."
Ford and Deutsche Bahn Connect have collaborated on a car sharing service since 2013 and in August this year, the manufacturer announced 100,000 free one-year Call a Bike memberships for its customers.
Deutsche Bahn Connect will operate the new service and handle customer enquiries for the fleet of brand new FordPass branded bikes that will have its own colour scheme. The bicycles can also be rented via the Call a Bike app.
Speaking at the same event, Frankfurt Deputy Mayor, Markus Frank also noted the disruptive factors affecting transportation as the car industry continued to evolve.
"For a long time the automotive world was more concerned with new design, powerful engines or the development of safety systems," said Frank. "The challenge is to develop the role of the car in a mobile world.
"Frankfurt is a global commuter giant. More than 300,000 people travel into our city every day and it is a big challenge for our city. Our streets and roads are reaching their limits and we need intelligent solutions. Some of [those] solutions will be emissions free."