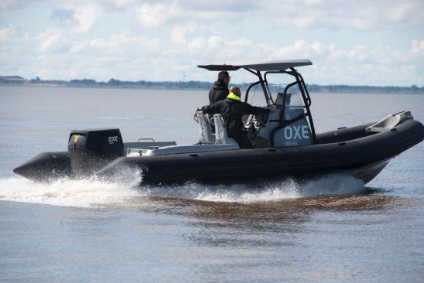 Opel has created its first 2-litre diesel engine for marine applications.
The 200hp outboard engine is based on the 2-litre diesel engine made in the Opel plant in Kaiserslautern, Germany, that normally propels the Cascada, Insignia and Zafira models. The marine version of the four-cylinder engine delivers 147 kW/200 hp at 4,100 rpm and offers maximum torque of 400 Nm at 2,500 rpm.
Opel said the niche application helps to increase capacity utilisation at the Kaiserslautern plant.
"By selling components we are tapping into small but important market segments in which our products are very popular. The OXE Diesel is the perfect example. We are playing an important part in the capacity utilisation of our engine production in Kaiserslautern by providing Cimco Marine AB with this engine," said Alex Thielemans, Manager Components Sales at Opel.
The OXE diesel engine is produced in Germany, and is especially durable and easy to service, Opel says. When used for maritime purposes, the engine only needs to be serviced every 200 hours with a major overhaul after 2,000 hours. Boat engines are under an immense strain because they have to run at full throttle most of the time. Opel says that in the process, the turbocharged diesel engine uses 43 litres per hour – an impressive 42 percent less fuel than a comparable modern two stroke outboard engine (73 liters). Furthermore, Opel claims the low-noise Opel diesel reduces ambient sound considerably.
It also says a diesel engine increases the range of fast boats designed for deep-sea fishing, rescue missions or fish farming in coastal waters considerably. One of the first OXE engines delivered is currently being used on a Scottish salmon farm. A further advantage of diesel engines is the fact that the fuel is of low flammability. Some harbours even forbid boats with gasoline outboard engines access because of the potential risk of fire – this prohibition does not apply to the OXE.
Cimco Marine AB tested several passenger car diesel engines to find a suitable unit. The four-cylinder Opel engine prevailed thanks to its robustness. Intense testing was conducted for three years until the end of 2015. "We have been validating the engine for years and it has proven to be an extremely robust and durable engine," said Christer Flodman, Cimco Technical Manager.