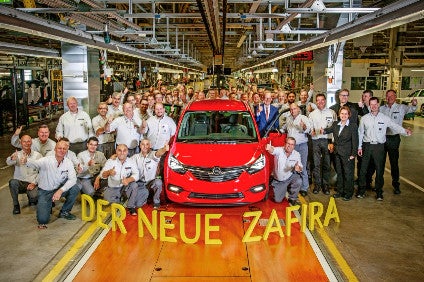 The first updated Opel Zafira has been built in Opel's Rüsselsheim plant. Production started with a red unit with OPC line package, equipped with AFL LED technology (adaptive forward lighting) and radar-based adaptive cruise control.
The updated Zafira is the latest model in Opel's product offensive which will see 29 new models go on sale from 2016 through 2020.
GM Zafira line dates back to 1999 when the sized-for-Europe minivan introduced the "revolutionary" integrated Flex7 seating system into the region's compact van segment. To date, 2.7m have been sold. It is especially popular with families and professionals looking for a spacious and versatile vehicle for long-distance travel, according to Opel.
The latest version retains predecessor features such as the AGR-certified ergonomic front seats (Aktion Gesunder Rücken), FlexFix bicycle carrier and adaptive FlexRide chassis. The update has brought a newly designed cockpit and better connectivity. Latest generation IntelliLink infotainment systems are compatible with both Apple CarPlay and Android Auto while OnStar turns the vehicle into a mobile 4G/LTE wi-fi hotspot.