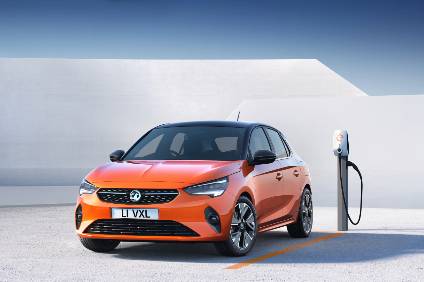 Opel/Vauxhall has released more detail on the upcoming fully electric variant of its sixth generation Corsa.
It says the car will have a range of 330km/205 miles (WLTP, provisional data) and Opel also claims it will only take 30 minutes to recharge the 50 kWh battery to 80% of its capacity. The Corsa-e is equipped for all charging options: cable, wallbox or fast charging station – and the battery is covered by an eight-year warranty. The state of charge can be checked with the "myOpel" application, which makes it possible to optimise charging periods and costs at any time.
In addition, the range can be adjusted by the driver, who can choose from three driving modes: "Normal", "Eco" or "Sport". The "Sport" mode modifies the responsiveness and offers an even more dynamic behaviour, with the key being a decrease in autonomy that remains moderate. In "Eco" mode, the Corsa-e becomes a runner: it significantly increases the autonomy without noticeable effect on comfort, Opel says.
It only 2.8 seconds to go from zero to 50 km/h or 0-31mpg, and 8.1 seconds for the zero to 100 km/h.
This dynamism, Opel says, is also reflected in the look of the Corsa-e, thanks to the 'sporty treatment of its line'. Opel says the next Corsa sits 48 mm lower than that of the model it replaces, without this affecting the roof guard. The driver is installed 28 mm lower. Its handling owes much to this centre of gravity placed lower, it is claimed.
New Corsas come with a choice of 7.0-inch colour touch screen, as well as the high-end Multimedia Navi Pro with a 10.0-inch colour touch screen. It will also offer the new telematics service "Opel Connect". It incorporates useful functions to travel with confidence: this service offers for example Live Navigation with traffic information in real time or a direct connection with roadside assistance and emergency call.
Order books for the sixth-generation Corsa will be open in the coming weeks, first for the Corsa-e, and soon after for the diesel and gasoline versions.