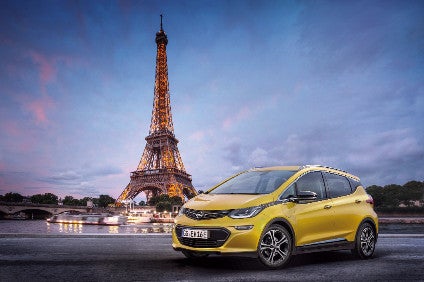 Opel said this week it would "revolutionise electromobility at the up-coming Mondial de l'Automobile in Paris as its latest Ampera-e electric car makes its world debut".
Last February, the General Motors' European unit promised it would launch "a revolutionary" new battery electric car this year as part of its plan to launch 29 new models between 2016 and 2020.
"The car with the lightning flash logo combines pioneering battery technology and localised emissions-free operation with a fun-to-drive experience, as the maximum torque of 360Nm provides impressive acceleration figures and overtaking ability," gushes the automaker's latest statement on its upcoming, new EV.
"The Ampera-e makes electromobility fully feasible for everyday use and ready for the future," CEO Karl-Thomas Neumann is quoted as saying. "The Ampera-e demonstrates impressively how well sustainability and driving pleasure can form a unity. And with its strong-as-an-ox electric motor, it delivers pure fun-to-drive."
Further details now revealed include maximum torque of 360Nm and electric motor output of 150kW/204hp (PS). The claimed 0-50km/h time is 3.2 seconds while acceleration from 80 to 120km/h (for overtaking) is put provisionally at 4.5 seconds. Opel therefore claims the Ampera-e "performs at the same level as OPC models, the sporty spearheads of Opel".
The new EV can cruise at up to 150km/h and will offer "a significantly longer range than most other electric cars". Unique, compact proportions are a result of the battery pack being mounted flat, under the vehicle floor. Efficient battery packaging also enables a roomy interior for five passengers and boot space "comparable with that of a car in the compact class", Opel promised.
Connectivity, enhanced in the updated Zafira which has just gone into production in Germany, will include the latest generation of IntelliLink plus GM's OnStar, the connectivity and service assistant which simultaneously offers up to seven mobile devices access to a wi-fi hotspot. Apple CarPlay and Android Auto-compatible IntelliLink systems will be available.
The Ampera-e, like the no-longer-on-sale Opel/Vauxhall Ampera PHEV, is a lightly restyled electrified Chevrolet, in this case the upcoming new Bolt. There is still no confirmation or denial the tall five-door hatchback will be made in right hand drive for Vauxhall to sell here in the UK.
The Bolt EV concept made its world debut at the 2015 Detroit show where the bright orange five-door hatchback was thought to look something like the Mercedes-Benz A-Class. Unlike the Volt, on which Opel's earlier Ampera was based, the Bolt prototype was a pure EV with no range-extending petrol engine.
Bolt production is expected to begin in October 2016, according to just-auto's production life database PLDB. Indicative pricing from US$30,000 was said to be the target starting price, GM said at show. This would pitch the Bolt as a rival for the announced new Tesla Model 3.
The production model should have a range of more than 200 miles (300km), according to GM which is believed to be planning to make the car at a rate of 25,000-30,000 units a year.
GM confirmed Bolt production in an announcement at the Chicago show in February 2015. As expected, it will be built at Orion Assembly, about 30 miles (50km) north of Detroit.
See also:
LG Electronics to supply key Bolt components