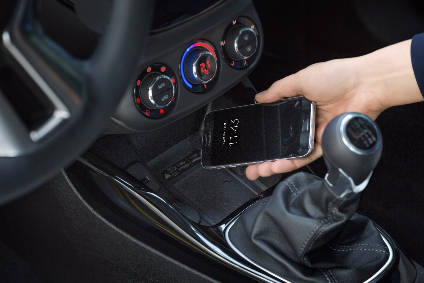 Opel is offering a vehicle-integrated wireless charging in selected model variants of the Adam model. It says the advantage is reduced clutter and no need for cables.
"Our award-winning, smartphone-compatible IntelliLink infotainment technology made its premiere in the Opel Adam, which is the perfect example of how much individuality and technology can be packed into a small car. And now with wireless charging as well as Opel OnStar, we are taking successful lifestyle mini to an even higher level," says Peter Christian Küspert, Vice President Sales and Aftersales Opel Group.
Wireless charging (also known as inductive charging) uses an electromagnetic field to transfer energy between two objects via a charging station. Energy is sent through an inductive coupling to an electrical device, which can then use that energy to charge the battery or run the device.
An induction coil in the charger creates an alternating electromagnetic field and a second induction coil in the portable device takes power from the electromagnetic field and converts it back into electric current to charge the battery.
Opel points out that thanks to accessory docking stations, the technology is available on many cars, too. However, the accessory docking station still needs to be wired to the car's electrical system; and depending on where it's installed it might more or less encroach on your field of vision, Opel maintains. It says a better idea is to build wireless charging of smartphones into the vehicle.
The wireless charger in the Adam is compatible with the "Qi" and "Powermat" interface standards and it is located in the centre console in front of the gear lever.
Wireless charging is available as an option for EUR135 on all members of the Adam family except the base version.