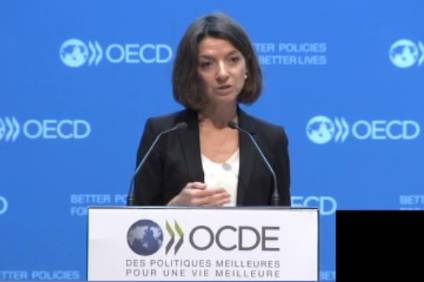 The global economy is slowing and major risks persist, with growth weakening much more than expected in Europe, according to the OECD's latest economic outlook report.
The highly respected international economics body said that economic prospects are now weaker in nearly all G20 countries than previously anticipated. Vulnerabilities stemming from China and the weakening European economy, combined with a slowdown in trade and global manufacturing, high policy uncertainty and risks in financial markets, could undermine strong and sustainable medium-term growth worldwide, the OECD maintains.
The OECD projects that the global economy will grow by 3.3% in 2019 and 3.4% in 2020. The outlook and projections cover all G20 economies (see table below). Downward revisions from the previous Economic Outlook in November 2018 are particularly significant for the euro area, notably Germany (which saw a manufacturing output drop in late 2018) and Italy (public finance crisis), as well as for the UK (Brexit concerns), Canada (US trade worries) and Turkey (financial markets instability).
‌The report identifies the Chinese and European slowdown, as well as the weakening of global trade growth, as the principal factors weighing on the world economy. It underlines that further trade restrictions and policy uncertainty could bring additional adverse effects on global growth. While policy stimulus is expected to help offset weak trade developments in China, risks remain of a sharper slowdown that would hit global growth and trade prospects.
"The global economy is facing increasingly serious headwinds," said OECD Chief Economist Laurence Boone. "A sharper slowdown in any of the major regions could derail activity worldwide, especially if it spills over to financial markets. Governments should intensify multilateral dialogue to limit risks and coordinate policy actions to avoid a further downturn," Ms Boone said.
The OECD calls on central banks to remain supportive, but stresses that monetary policy alone cannot resolve the downturn in Europe or improve the modest medium-term growth prospects. A new coordinated fiscal stimulus in low-debt European countries, together with renewed structural reforms in all euro area countries would add momentum to a growth rebound, boost productivity and spur wage growth over the medium term, it says.