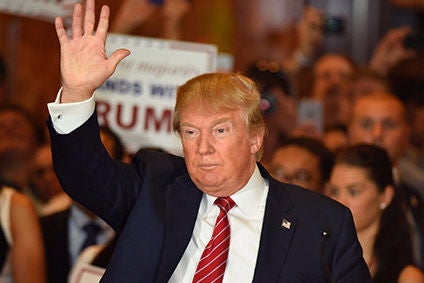 US president-elect Donald Trump has criticised Toyota for its Mexican investment plans. Trump has criticised a number of companies – most notably Ford, but General Motors earlier this week – for their North American manufacturing sourcing strategies that he says favour low-cost Mexico under NAFTA over investing in the US.
His latest Twitter post on the subject lambasts Toyota for building a new plant and threatens to levy US import tariffs if the company goes ahead – the same threat previously levelled at Ford and GM.
Trump's Twitter post reads: "Toyota Motor said will build a new plant in Baja, Mexico, to build Corolla cars for U.S. NO WAY! Build plant in U.S. or pay big border tax."
In a statement, Toyota pointed to its contribution to the US economy. "With more than $21.9bn direct investment in the US, 10 manufacturing facilities, 1,500 dealerships and 136,000 employees, Toyota looks forward to collaborating with the Trump administration to serve in the best interests of consumers and the automotive industry," the company said.
There was also support for Toyota from the Japanese government. Reuters reported that Chief Cabinet Secretary Yoshihide Suga told reporters on Friday that Toyota was an "important corporate citizen", while Trade Minister Hiroshige Seko stressed the contribution of Japanese companies to US employment.
Reuters noted that Toyota is just one of a host of companies operating in Mexico. It has an assembly plant in Baja California, where it produces the Tacoma pick-up truck, and where it could increase production.
Trump's tweet, however, appeared to confuse Toyota's existing Baja plant with the planned new plant in Guanajuato, where construction got under way late in 2016.
The Guanajuato plant will build Corollas and have an annual capacity of 200,000 when it comes online in 2019, shifting production of the small car from Canada.
Reuters noted that the Baja plant produces around 100,000 pick-up trucks and truck beds annually. Toyota said in September it would increase output of pick-up trucks by more than 60,000 units annually.
This week, Ford said it was cancelling plans for a new plant in Mexico. The president-elect thanked Ford.