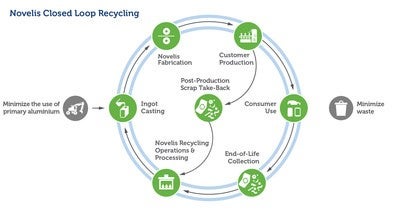 Aluminium supplier Novelis said it started operations of a closed loop recycling deal with Smart Press Shop (SPS), a joint venture between Porsche and Schuler Group based in Halle, Germany.
Novelis supplies aluminium flat rolled products from its Nachterstedt plant to the Smart Press Shop and brings production scrap generated during SPS' manufacturing process back to Nachterstedt where it recycles the scrap and converts it into new rolled sheet which is shipped to SPS where it is made into light weight automotive body parts.
Recycling aluminum requires 95% less energy to produce than primary aluminium with commensurate savings in CO2 emissions. The Novelis-SPS cooperation is projected to reduce carbon emissions by up to 100,000 tons per year.
SPS selected Novelis due to its proven success in developing and implementing closed loop recycling systems for automakers such as BMW, Volvo, Nissan, Ford and Jaguar Land Rover.
SPS optimises material recovery rates by using laser cutting to manufacture exterior vehicle body parts. The proximity of its Halle plant to Novelis' Nachterstedt recycling centre, the world's largest aluminum recycling facility, further enhances environmental sustainability due to reduced transport times.
Novelis and SPS have already secured initial projects for premium car manufacturers focused on light weighting and the two companies are working together to extend the supply of sustainable aluminium car body parts to additional automakers.