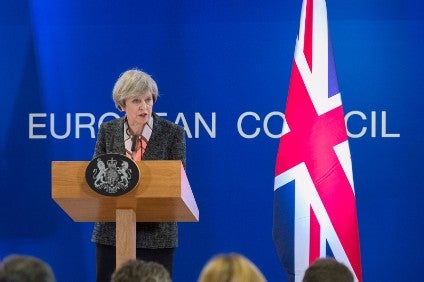 The UK's Society of Motor Manufacturers and Traders (SMMT), whose members are desperately waiting clear guidelines from the UK government on post-Brexit trade conditions and customs rules, said the outcome of today's European Council meeting was "hugely disappointing".
Media reports said Theresa May was hit by a fierce Conservative MP backlash after admitting that she could delay Britain's final departure from the European Union until almost 2022.
According to the Evening Standard, Jacob Rees-Mogg, chairman of the hardline Brexiteers group, savaged it as "a rather poor attempt at kicking the can down the road… an example of a failure to decide things". Two cabinet ministers, Michael Gove and Penny Mordaunt, appeared to make warning noises by speaking of the need to quit the bloc "at the earliest possible point" and "swiftly". Former Brexit secretary David Davis said it was "the wrong direction" while Remain-backing ex-minister Nicholas Boles called it a "desperate last move" by a prime minister forced repeatedly into "humiliating concessions".
SMMT chief executive Mike Hawes said in a statement: "The lack of progress from today's European Council (EC) meeting is hugely disappointing and business is gravely concerned about future prospects. No deal is not an option but nor is a limited Canada-style trade agreement, which would create hard borders where they currently do not exist, impose new and costly administrative burdens and would not afford the industry zero tariffs given rules of origin requirements.
""Contingency plans for no deal are already being enacted on both sides of the channel but we must avoid this scenario. The importance of frictionless trade to our highly integrated just-in-time business model cannot be overstated so we need a deal – urgently – that replicates the benefits of the single market and customs union to safeguard the industry and the 856,000 livelihoods that depend on it."
The Standard said the prime minister was under pressure from all sides, with Tory Remainers also furious that the government was attempting to curtail Commons voting on any withdrawal deal while EU leaders made plain they expected Britain to make the next move to solve the impasse over the Northern Ireland border.
The paper claimed "tempers boiled over" after May arrived at the second day of the summit in Brussels and confirmed she was not ruling out an EU proposal to extend the period in which Britain will be tied to its rules and fees for "a matter of months" after the current exit date of December 2020.
While UK officials played down the significance, saying it was only an option suggested by the EU side for "months", the ferocity of the backlash suggested that Tory MPs were losing patience and faith, the London evening paper reported.
Senior British officials told the Evening Standard May was still firmly ruling out any backstop that would create a border between Northern Ireland and Great Britain. They said any extension to the transition would be for "months" and not several years. The option could be written into the withdrawal agreement but it was unclear how it might be triggered.
British officials reportedly stressed an extension would only be used if more time was needed to put in place a permanent deal on the UK's future trading relationship with the EU. Full talks on a deal would only begin after formal Brexit next March and few believed they could be concluded in under two years. May's de facto deputy David Lidington called it "an insurance policy", the Standard said.
ACEA/CLEPA urge negotiators to avert worst-case Brexit