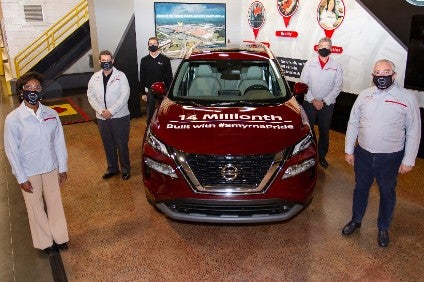 Nissan Motor said it would suspend production at its US factory in Smyrna, Tennessee, for two weeks from next Monday (16 August) due to a shortage of semiconductors, according to local reports.
The company said social and business restrictions implemented in Malaysia since the beginning of June, to combat the latest coronavirus outbreak, had affected output at a key chip supplier.
The fortnight shutdown is one of the longest closures of any vehicle assembly plant in the US due to the ongoing global semiconductor shortage which first emerged almost a year ago.
Smyrna is a key plant for Nissan and the two week closure will affect its recent efforts to recover from the pandemic and other corporate issues. The factory employs around 6,700 people and has a production capacity of 640,000 vehicles across six models, including the best selling Rogue [X-Trail] compact SUV.
The automaker reported a 71% increase in consolidated net revenues to just over JPY2trn in the April-June 2021 first fiscal quarter while operating profit was JPY76bn after a JPY154bn loss a year earlier, and net income was JPY114bn after a JPY286bn loss.
Vehicle production across the globe continues to be disrupted both by chip shortages and the global coronavirus pandemic and this is set to last until well into 2022.
Most vehicle manufacturers have implemented sporadic closures since the end of last year with production of their most profitable models usually prioritised.