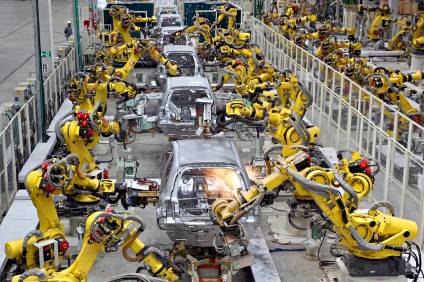 Nissan Motor plans to invest more than JPY130bn (US$1.2bn) in the next seven years to upgrade plants in Japan and the US under its Intelligent Factory Initiative which is designed to make vehicle production more efficient and less polluting.
Executive vice-president Hideyuki Sakamoto said in an interview: "Nissan has spent JPY33bn over the past two years installing advanced equipment at its plant in Tochigi Prefecture as part of its Intelligent Factory Initiative. The new technology will now be rolled out in all major plants in Japan and the US."
Nissan said the facilities earmarked for the upgrades include the Oppama and Kyushu plants in Japan and Canton and Smyrna in the US, with new equipment to be introduced at these sites gradually over a period of seven years.
The equipment introduced at Tochigi, which has an annual production capacity of 250,000 vehicles per year, includes mixed reality headsets for training production workers, additional automation for production lines and new production facilities for EVs, including the new Ariya crossover model which is scheduled to go into production in the current fiscal year.
New automated systems have been introduced in the sections that install electric and conventional powertrains which accurately measure the cars' dimensions and make micro-adjustments to ensure greater assembly accuracy.
Sensors have been installed throughout the factory that warn of any problems, while factory activity is also monitored by cameras which transit live streams to the control room. Engineers with camera headsets and tablets are dispatched immediately, with instructions sent from the control room. Nissan estimates this system reduces equipment recovery time by 30%.
The company also plans to cut carbon dioxide emissions by 41% by 2030 from 2019 levels by using electricity from renewable energy sources and by using onsite fuel cell systems that use green energy.