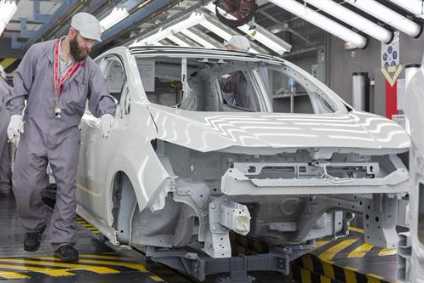 Remarks by Nissan COO Ashwani Gupta suggest that Nissan remains highly committed to its UK plant and will increase investment in electrified technology manufacturing in the UK to meet post-Brexit EU trade rules of origin requirements.
More battery production will be added to the Envision plant next to Nissan's Sunderland vehicle manufacturing plant that makes the Leaf EV.
Nissan makes about 30,000 Leaf electric cars at its Sunderland factory, most with a locally-sourced 40 kilowatt-hour battery. They remain tariff-free when exported to the EU. However, a higher-range battery is currently imported from Japan.
Mr Gupta said in remarks to media that the Brexit deal has brought short-term business continuity. "It has protected 75,000 direct and indirect jobs across Europe and most important, all of our models manufactured in Sunderland qualify as local origin except the Leaf higher-range battery [62kWh].
"We have decided to get those from the Envision factory, which means all of our products, including the Qashqai E-power, will also qualify.
"That means Brexit has brought Nissan a competitive advantage for being in the UK as one of the largest automotive companies, not only for UK but also outside the UK.
"That's why I say that Brexit is positive for Nissan."
Gupta also did not rule out buying batteries from other sources, including from the Britishvolt gigafactory being planned for Blyth, Northumberland, if demand for electric cars increased.
Under the terms of the FTA agreed late last year between the UK and EU, local content on EU-bound cars that qualify for free circulation does not include parts – such as battery cells – assembled in Britain but sourced from outside the UK and EU, for example from China or Japan. That pointed to a potential problem for UK-made EVs that source battery cells from Asia.
The Nissan news will act as a boost for the UK's automotive sector as it both navigates post-Brexit EU trading arrangements and seeks to attract investment in the medium- and long-term as the industry moves towards greater electrification.
The UK government intends to ban the sale of ICE-equipped cars from 2030 (brought forward from 2040), a move that potentially starts to influence investment decisions. PSA chief Carlos Tavares has recently made remarks that raised concerns over the future of the Vauxhall car plant in the UK – which currently makes the ICE-equipped Astra model.