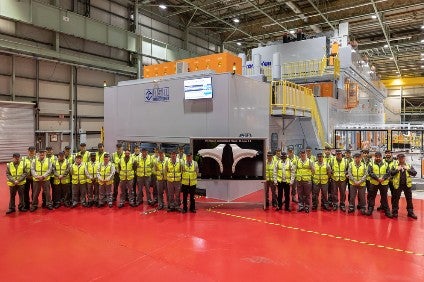 Despite another round of closure threats recently, post Brexit, Nissan has unveiled a new GBP52m extra large (XL) press line at its UK manufacturing plant in Sunderland, north east England, as it prepares to start production of the redesigned Qashqai.
The plant also builds the Leaf EV, and its battery packs, and the recently redesigned Juke.
The new body panel press, which weighs around 2,000 tonnes and took 18 months to install, is part of a GBP400m spend at the plant ahead of third generation Qashqai start of production (SOP).
The first specially commissioned panels were pressed at an official ceremony, hosted by Nissan Motor chief operating officer Ashwani Gupta, who said: "When the first Qashqai rolled off the line in Sunderland in 2006 it created the crossover segment.
"Designed, engineered and made in the UK, and more than 3m vehicles later, it remains the benchmark, just as our team in the UK continues to set the standard for productivity and quality."
The GBP52m spend on the press includes a new recycling system to segregate and process scrap, and upgrades to the existing blanking line which will supply flat blanks to the XL press. It is capable of stamping around 6.1m vehicle panels a year, with a maximum combined force of 5,400 tonnes, all to claimed pinpoint accuracy.
As part of the opening ceremony, the team behind the press project signed the first panel – a Juke fender.
March 2020 is the 10th anniversary of the first Juke to be built at Sunderland (some early cars came from Japan). The redesigned model has been made only in Sunderland since October last year, bringing new levels of technology and connectivity to the compact crossover category.
Juke is now sold primarily in UK and Europe, following Nissan's more recent launch of the Kicks which effectively replaced the Juke in North and South America and some emerging markets and led to Sunderland becoming the sole source plant.
The GBP400m spend on Qashqai SOP was on top of GBP100m spent to launch the latest Juke and is part of an overall GBP1bn planned investment in the plant over five years.
Nissan said it had received support from the UK government's business energy and industrial strategy department.
See also: Nissan could grow UK plant under tariffs