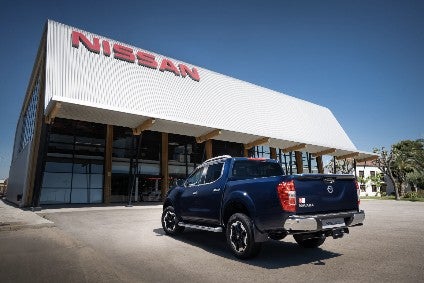 Nissan has raised its full-year profit outlook (fiscal year to March 31 2022) to 210 billion yen from 180 billion previously.
Nissan is benefiting from a depreciated yen and also says it is gaining more profit on vehicles sold, despite also acknowledging that the global shortage of semiconductors and parts is hampering operations.
For the first nine months of the fiscal year, Nissan consolidated net revenue was 6.15 trillion yen, consolidated operating profit was 191.3 billion yen, and the operating profit margin was 3.1%. Net income for the nine months was 201.3 billion yen.
Although the supply shortage of semiconductors continued to have an impact, Nissan said favourable market conditions in the United States coupled with continued improvement in the quality of sales in each market resulted in a significant increase in net revenue per unit of major, new models. Profit improved significantly year on year thanks to financial discipline and strict control of fixed costs, the company said.
Nissan CEO Makoto Uchida said: "In fiscal year 2021, we have steadily improved our business performance through the first nine months by launching new vehicles, improving the quality of our sales, and continuing our efforts to ensure financial discipline. Although we expect the market environment to remain uncertain in the fourth quarter, we will continue to enhance our initiatives to achieve our revised full-year outlook and a 2% operating margin in this important year of the Nissan NEXT transformation plan. By building on this momentum and promoting Nissan NEXT globally, we aim to achieve the plan's target of a 5% operating margin in fiscal year 2023."
In the third quarter of fiscal year 2021 (to 31 Dec, 2021), consolidated net revenue was 2.21 trillion yen, consolidated operating profit was 52.2 billion yen, and the operating profit margin was 2.4%. Net income in the third quarter was 32.7 billion yen. Compared with the same period last year, Nissan said it has continued to improve its performance, with significant improvements in both consolidated operating profit and net income.
Although the sales volume forecast for fiscal 2021 remains unchanged at 3.8 million units, the severe semiconductor shortage and the increase of COVID-19 infections due to the spread of the Omicron strain are affecting plant operations, Nissan said. Despite these challenges, Nissan has revised upward its full-year outlook due to further improvement in performance due to the enhancement of quality of sales and cost optimization, ongoing depreciation of the yen and a review of the impact of rising raw material prices.
Nissan is forecasting net revenue of 8.71 trillion yen. The company foresees an operating profit of 210 billion yen, an increase of 30 billion over the previous outlook, reflecting the results of the first nine months. A net profit of 205 billion yen is expected, an increase of 25 billion yen over the previous outlook.