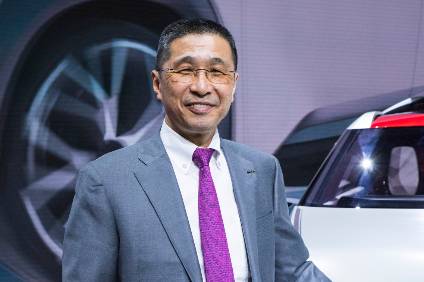 Nissan has reportedly indicated it is not yet ready to commit to the proposed merger between Fiat Chrysler Automobiles (FCA) and Renault.
The reports follow a meeting of top executives from the Renault-Nissan-Mitsubishi Motors alliance in Japan this week. The Nikkei reported that Renault managers asked Nissan to agree to its plans to proceed with merger talks. However, while a Nissan representative said that the company is not opposed to a merger, it still believes 'there are many things to discuss'.
The Nikkei report noted that a new alliance with FCA would eventually weaken the two Japanese OEMs and that Nissan appears to want more time to evaluate possible merger outcomes.
"I first want to see what good opportunities it will provide [for the current alliance]," Nissan President and CEO Hiroto Saikawa told reporters earlier in the day, the Nikkei reported. "Then I want to see what impact it will have on Nissan and confirm Nissan's benefits."
Among those attending the meeting with Saikawa were Renault Chairman Jean-Dominique Senard, Renault CEO Thierry Bollore and Mitsubishi Chairman and CEO Osamu Masuko.
In a statement, the alliance members said they had "an open and transparent discussion" on the proposal. The deal is aimed at sharing costs as the industry develops expensive driverless and electric vehicle technologies.