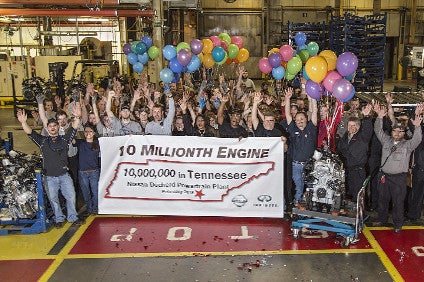 Nissan's Decherd, Tennessee Powertrain Plant built its 10 millionth engine on Monday (29 February).
The milestone engine was a 2.5-litre, I4 unit headed for an Altima scheduled for build at Nissan's Smyrna assembly plant, located about an hour away and also in Tennessee. The QR line is the highest volume engine assembled in Decherd.
Nissan began powertrain assembly in Decherd in 1997. Today, its workforce of about 1,600 makes four-, six- and eight-cylinder engines, as well as eMotors, for Nissan and Infiniti vehicles built in the US. The plant includes crankshaft forging and cylinder block casting operations making it one of the most complex powertrain facilities in America.
Decherd built 964,000 engines, including eMotors. last year. By comparison, the plant assembled 162,000 engines in 1998 during its first full year of operation.