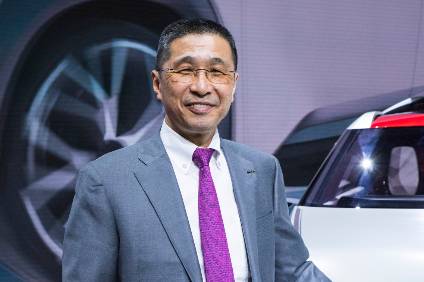 Reports are circulating in Japan that Paris is seeking a new capital tie-up between Renault and Nissan that would more closely integrate the two alliance partners. However, it is also reported that Nissan CEO Hirota Saikawa has suggested that Nissan is not ready to discuss such a proposal.
Some analysts have suggested that moves by ex-Nissan chairman Carlos Ghosn to take Nissan closer to full merger with Renault and resultant tensions between executives in the two companies partly explain the charges of financial misconduct levelled at Ghosn and his subsequent ousting as Nissan chairman. Ghosn remains in detention in Tokyo ahead of a trial.
According to Reuters, Nissan CEO Hirota Saikawa said on Monday that he had not heard directly about a reported French proposal to integrate the Japanese carmaker's management with Renault, adding that it was not the time to discuss revising the partners' capital ties.
The Nikkei has reported that a French government delegation had told Tokyo that it would seek an integration of Renault and Nissan, most likely under the umbrella of a single holding company.
"Since I have not heard this directly, I cannot comment," Saikawa told reporters, Reuters reported.
Asked about future capital ties, he reportedly added: "We are not at the stage for such discussions."
Some analysts caution that there are structural obstacles behind the two companies getting closer. For example, Nissan makes a bigger contribution to electrification technology that is shared between the two. Renault is also considered to have the upper hand in the alliance because it owns 43% of Nissan, but the cross shareholding arrangement has left Nissan with just 15% of Renault shares – the same percentage as the French state's stake.
Meanwhile, reports says that Ghosn is said to be applying again for bail and offering to surrender his passports and submit to electronic tracking.