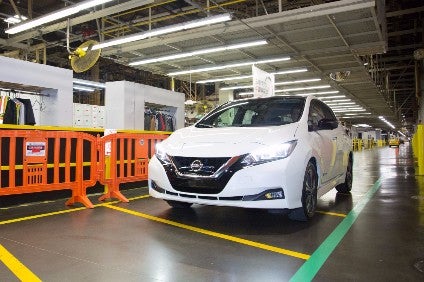 Nissan Motor is considering a third plant in the US to help meet growing demand for electric vehicles, according to reports in Japan citing a senior company executive.
The Japanese automaker currently has two plants in the US, with a combined production capacity of almost 1.1 million vehicles per year, which supply both domestic and export markets. The company reported a 9% rise in US sales to 977,639 units last year.
The Smyrna plant in Tennessee has capacity for 640,000 units and makes the Leaf EV, the Maxima and Altima passenger cars and Rogue and Pathfinder SUVs. Canton in Mississippi has a capacity of 450,000 and makes the Rogue and Armada SUVs, the Titan pickup truck and the Altima sedan.
Nissan chief operating officer Ashwani Gupta said: "It may not be a surprise that we go for a third plant."
Gupta said Nissan had yet to decide whether to build an entirely new facility or add an assembly line to an existing plant, without releasing a timeline other than it "which will would likely take some years". He added "the importance of localisation will increase year on year."
Gupta also denied Nissan was considering spinning off its EV business, similar to what alliance partner Renault is planning, adding: "It's too early to say we go in one direction."