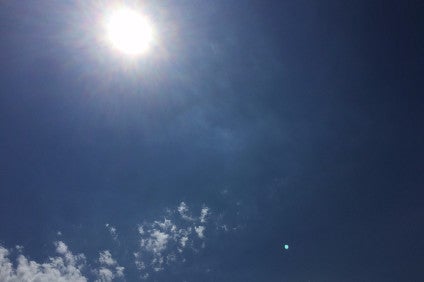 With England in the grip of a rare heatwave – clear blue skies, late 20s to early 30s C temperatures, high humidity – Nissan Motor, which has an assembly plant in this country, claims UV protection on its crossovers such as the Qashqai and Juke (produced in Sunderland and sold across Europe) plus the imported X-Trail is equivalent to a Brit slapping on sunscreen with a sun protection factor (SPF) of 500.
The automaker said its crossovers have a high quality, multi-layer paint finish tested to endure the world's most extreme temperatures. During development, engineers expose sample paint panels to 500 watts per square metre of UV light, which is more than 10 times the UV radiance of natural sunlight.
"So if SFP 50 sun cream will keep human skin safe outdoors in July and August, Nissan paints are equivalent to SPF 500," the automaker said.
A new EUR1.6m (US$1.772m) environmental test chamber helps develop such coatings technology. Recently opened, the facility at the European technical centre – also in the UK at Cranfield – lets engineers recreate many years of UV exposure in real-world conditions in a matter of weeks.
The hi-tech light bulbs in the new chamber emit 92,000 watts of intense heat. Combined with elevated temperature inside the chamber, the cabin of any crossover on test reaches 120 degrees Celsius. To ensure outstanding durability at the other end of the temperature spectrum, it can also drop to -50 degrees C.
"Just like human skin, car paint is affected by intense UV rays that are capable of breaking down a surface, so we test for durability to ensure lasting product quality," said Dean Gillett, a Nissan environmental test engineer.
As well as paint, plastics, seat fabrics and adhesives go through the same rigorous development process to make sure they can cope with extremes of temperature.
Test results have led to real 'attention to detail' engineering, Nissan said. Gillett said crossover components can change by region to make sure they are suitable for vehicle model and region in which sold.
"A good example is the gas struts which hold the tailgate open. They are different around the world because the gas in the cylinder is temperature sensitive."