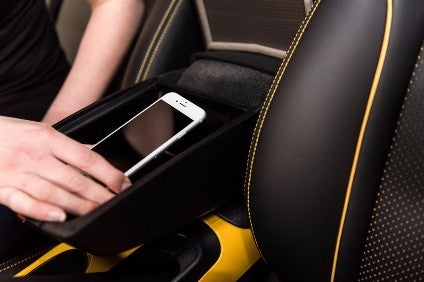 Nissan GB has unveiled its Signal Shield prototype compartment within the arm rest of a Nissan Juke, lined with a Faraday cage to cut down driver distractions with mobile phones.
Once a mobile device is placed in the compartment and the lid closed, the Nissan Signal Shield creates a 'silent zone,' blocking all the phone's incoming and outgoing cellular, Bluetooth and Wi-Fi connections.
The concept is designed to give drivers a choice about whether to eliminate the distractions caused by the millions of text messages, social media notifications and app alerts 'pushed' to smartphones each day.
A growing problem, the number of drivers admitting to handling their phone in the car has increased from 8% in 2014 to 31% in 2016, according to British breakdown service, RAC.
Users are becoming habitually more tempted to check text messages and notifications as they appear on their phone's screen, even if they are driving. Nissan's own research found almost one in five drivers (18%) admitted to having texted behind the wheel.
All Nissan crossovers are available with Bluetooth connectivity to allow drivers to make and receive hands-free phone calls when it is safe to do so. NissanConnect, or Apple CarPlay on the all-new Nissan Micra, enable further integration with a phone's apps.
The Nissan Signal Shield concept provides optional connectivity, giving drivers the choice between being able to contact and be contacted from the road, or creating a 'phone-free' space and time. It means a digital detox and a drive that's free of incoming distractions.
If drivers want to listen to music or podcasts stored on their smartphone, they can still connect to the car's entertainment system via the USB or auxiliary ports. The device will maintain wired connectivity even when in the Nissan Signal Shield compartment.
To restore the phone's wireless connections, drivers need to open the arm rest to reveal the compartment – which can be done without taking eyes off the road or touching the phone itself – and the phone can reconnect with the mobile network and the car's Bluetooth system.
The innovation works on the principle of the Faraday cage, an enclosure made of a conductive material, such as wire mesh, which blocks electromagnetic fields. It is named after the pioneering English scientist, Michael Faraday, who invented it in the 1830s.
When an electronic device, such as a smartphone, is placed inside, any incoming electromagnetic signals, including cellular or Bluetooth data, are distributed across the cage's external conducting material and so prevented from reaching the device.
"Our research shows handheld phone use by drivers has reached epidemic proportions," said RAC road safety spokesman, Pete Williams. "As mobile phone technology has advanced significantly many people have become addicted to them. However, the use of a handheld phone when driving represents both a physical and mental distraction and it has been illegal since 2003.
A US study of more than 1,000 drivers in 2014 found 98% agreed it was dangerous to text and drive, but 74% claimed they had done so with 30% saying it is 'simply a habit' because they are so used to being connected to their phone, and they believed their driving performance was not impacted by texting.
"We compulsively check our phones because every time we get an update through text, email or social media, we experience an elevation of dopamine, which is a neurochemical in the brain that makes us feel happy," said Centre for Internet and Technology Addiction and Assistant Clinical Professor of Psychiatry at The University of Connecticut School of Medicine, Dr Greenfield.
"If that desire for a dopamine fix leads us to check our phones while we're driving, a simple text can turn deadly."
Research by Nottingham Trent University found the average user checks their phone 85 times a day and that 'rapid mobile phone interactions', less than 30 seconds, are becoming habitual for smartphone users, with many not realising the frequency with which they check their phone.
Young drivers in particular are more likely to be distracted. Just less than half of drivers (49%) aged 25–34 admitted they sometimes go online or use apps while driving. Almost a third of drivers in the same age group said they do this several times a week at least.
These compulsive habits are both dangerous and illegal. Drivers are four times more likely to be in a crash if they are using a phone whilst driving, and their reaction times are two-times slower than those drink-driving.
Police believe more road accidents are caused by drivers using their mobile phones at the wheel than is currently shown in official records.
Half those surveyed also agreed the role of phones was even overlooked in fatal crashes, which currently account for around 20 fatalities a year.
The UK introduced stricter penalties in 2017 for drivers caught using a mobile phone behind the wheel – six penalty points and a GBP200 (US$258) fine.