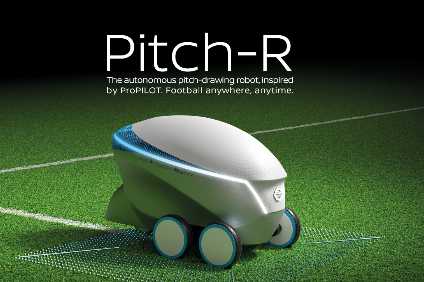 Nissan, an official sponsor of the UEFA Champions League Final Kyiv 2018, showcased an innovative technology to 'encourage and excite grassroots football' with the world debut of Pitch-R, an autonomous robot that uses Nissan's ProPILOT driver assistance technology to create a football pitch wherever there's space.
With onboard four-camera vision, GPS location tracking and collision avoidance systems, Pitch-R draws lines on grass, tarmac or gravel with eco-friendly dissolvable paint. The whole process can take less than 20 minutes.
ProPILOT is a key part of Nissan Intelligent Mobility, the company's vision for changing how cars are driven, powered and integrated into society. Nissan recently started delivering the new Nissan LEAF, the icon of Nissan Intelligent Mobility, in Europe. More than 34,000 European customers have chosen the 100% electric new LEAF, which has earned a 5-star safety rating from the European New Car Assessment Programme.
'Brain-to-Vehicle'
Nissan also showcased a world-first prototype technology in Kyiv that will enable cars to learn from their drivers. The company's 'Brain-to-Vehicle' system interprets the driver's brain waves to predict what actions they intend to take next. For example, by recognizing whether a driver is about to brake or turn, the technology enables a vehicle to initiate the action between 0.2 and 0.5 seconds earlier. This increases safety and comfort for drivers, giving them more confidence.
The UEFA Champions League Final in Kyiv marked Nissan's fourth year as an official sponsor of the competition. The partnership was recently extended to the next cycle 2018-2021.
Nissan's engagement with grassroots football also includes support to programs that help young people not currently in education or training. The purpose is to harness the power of football to create a fairer society and brighten the futures of young people across Europe. The program is operating in both France and the U.K. through a partnership with the UEFA Foundation for Children and StreetFootballWorld.
Nissan used the UEFA Champions League Final Kyiv 2018 to inspire seven young people from two grassroots organizations – Sports Dans La Ville (France) and Street League (U.K.). Nissan gave them the chance to attend the final and meet UEFA football players.