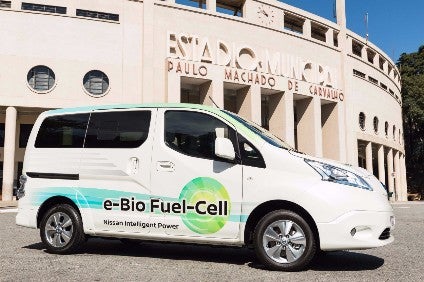 Nissan was the auto industry's first company to develop a vehicle prototype powered by a solid oxide fuel cell (SOFC) that works with bio-ethanol. By combining this and two other technologies (electric motor and a 24 kW/h battery) range is in excess of 600km (375 miles).
Brazil was chosen by the Japanese automaker for the global reveal of the technology and initial testing due to its huge, nationwide ethanol supply network and being the world's second largest ethanol producer.
Testing was done with two SOFC-equipped e-NV200 electric vans made in Spain and fitted with an ethanol fuel tank of just 30 litres (6.6 imperial gallons).
The first testing cycle in daily use was accomplished in the last few months by the Nissan Brazil research and development team. The technology fitted perfectly with day to day use and with Brazil's 5% water, hydrous ethanol fuel.
The Fuel Cell e-bio's research and development programme was announced by Nissan in Yokohama, Japan, in June 2016. It was first unveiled on the eve of the Rio 2016 Olympic Games opening in Rio de Janeiro City in August last year at an event for smart mobility organised by Nissan.
The motor is clean, highly efficient and it works 100% on straight ethanol or on a mix of ethanol with up to 50% water, which would make it easier to use in countries with no ethanol production dependent on imports. Its emission are classified as carbon-neutral well to wheel.
The Fuel Cell e-Bio provides the usual strong acceleration and silent drive of any electric vehicle, together with low maintenance costs, but with the range of a fossil fuel-powered vehicle.
Bio-ethanol comes mainly from sugar cane and corn available in North and South American countries.