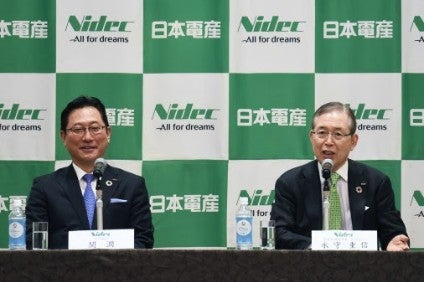 Japanese electric motor maker Nidec, founded in 1973 by chairman and CEO Shigenobu Nagamori to make a brushless, DC, direct drive, spindle motor for hard disk drives (HDDs, sometimes used in auto ICE units), said it was now making "substantial investments related to electric vehicle technology in order to supply our groundbreaking traction motor systems around the world".
The supplier currently produces automotive components, such as electric power steering motors and electric brake motors, and is now, with electrification an auto industry priority, eyeing traction motors which, it said," require unprecedented technological innovation".
It has just named a new president and COO, Jun Seki, previously a Nissan executive, to bring on board "an expert in manufacturing".
Seki has worked in engine production for 20 years of his 34 year career and told a press conference in Japan Nidec's products and processes "share many similarities with the production of engines, so it has been easy for me to familiarise myself with the company and its operations".
He also spent 14 years in business planning and sales and management and, between 2013 and 2017 was in charge of the operations of a joint venture with a Chinese automaker.
The supplier's ultimate target is an annual JPY10 trillion in sales.
Nidec thinks, by 2030, the electric vehicle "will have grown to a size that surpasses general expectations" with around 90m cars sold annually worldwide, at least 30% electric.
Nidec has a diverse business that spans small precision motors, components for appliances and industrial applications, and other areas but Seki said he would now focus the company on automotive component growth while continuing to expand in its other sectors.
"In this day and age, the greatest growth is found in products that are completely novel," he said.
"We will mobilise all of our resources to seize these great business opportunities in all of Nidec's markets with our sight set on JPY10 trillion in sales."
Seki takes up his new post officially on 17 June, 2020.
Nidec operates worldwide with 300 subsidiaries employing over 100,000 people.
Its motors, drives, generators and related products are found in computers, smartphones, home appliances, automobiles, manufacturing plants and robots.