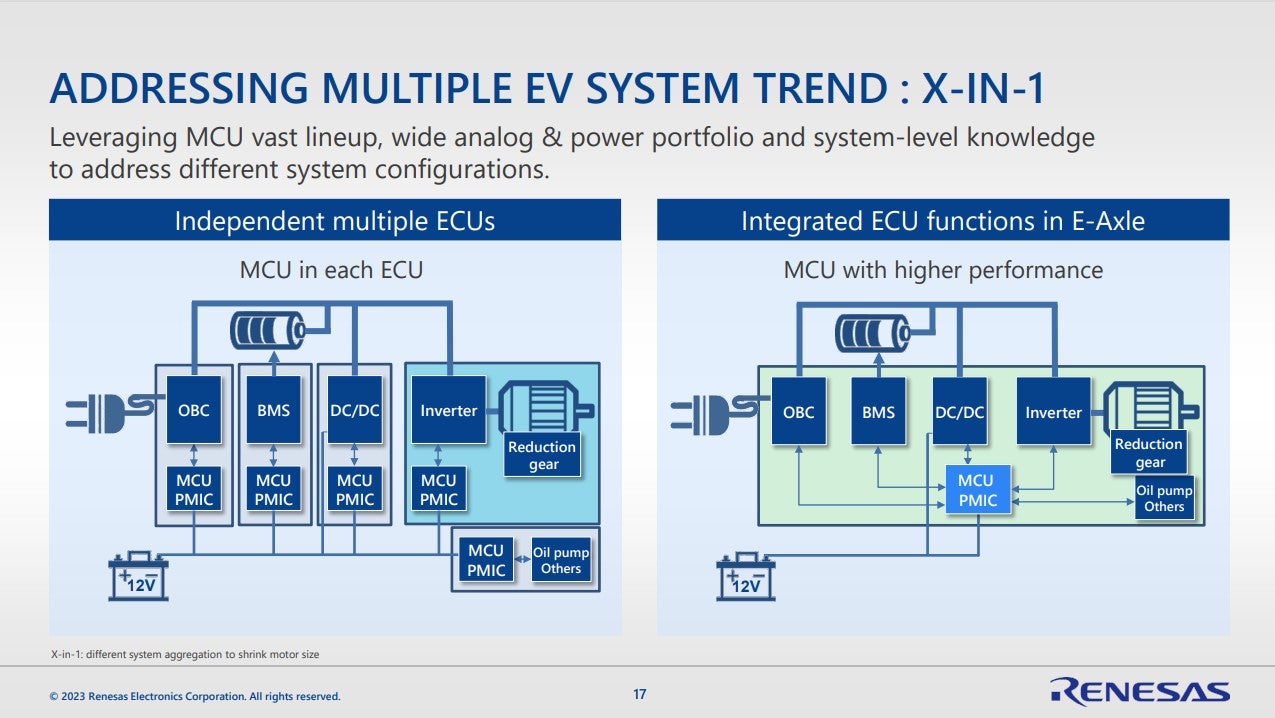 Nidec and Renesas have agreed to join forces to develop semiconductors for a new e-axle which integrates the drive motor and power electronics for electric vehicles (EVs).
EVs are increasingly using three-in-one e-axles which integrate motor, inverter, and reduction gearbox.
To achieve high performance and efficiency as well as smaller size, light weight and lower cost, and to accelerate vehicle development, EVs are also integrating power electronics controls such as DC-DC converters and on-board chargers (OBCs).
Suppliers in advanced EV markets such as China have developed an X-in-1 platform that integrates multiple functions, accelerating adoption in multiple vehicle models.
As X-in-1 integrates multiple functions and increases in complexity, maintaining a high level of quality in vehicles becomes challenging. Thus, developing preventive safety technology, such as diagnostic functions and failure prediction, is crucial for ensuring safety and security in vehicles.
To address this challenge, the two companies agreed to combine Nidec's motor technology and Renesas' semiconductor technology to jointly develop a highly reliable and high-performance proof of concept (PoC) for the X-in-1 system.
The PoC is designed to support the EV industry's highest performance and efficiency as well as smaller size, light weight and lower cost for the X-in-1 system.
The companies plan to launch the first PoC by the end of 2023 which will feature a six-in-one system with a DC-DC converter, OBC, and power distribution unit (PDU) as well as a motor, inverter, and gearbox.
As a second phase in 2024, the pair plan to develop a highly integrated X-in-1 PoC that incorporates a battery management system (BMS) along with other components. The first PoC will include power devices based on SiC (silicon carbide), and the second PoC will replace the DC-DC and OBC power devices with GaN (gallium nitride), offering claimed excellent performance in high frequency operation, to further reduce size and cost.
Building on the PoC developed through this collaboration, Nidec plans to rapidly put e-axle systems into trial production to add to its range and ramp up to mass production "to lead the e-axle market".
Renesas plans to develop and deliver turnkey products for increasingly complex X-in-1 systems by expanding the jointly developed PoC for e-axle reference designs.