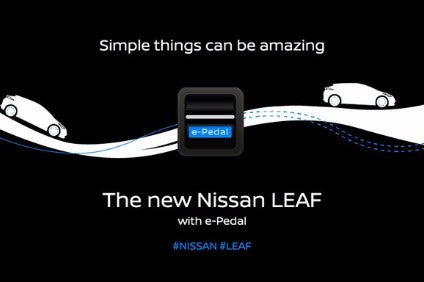 Nissan will offer one-pedal driving on its upcoming redesigned Leaf electric car.
The automaker said e-Pedal, activated by a switch, will allow drivers to accelerate, decelerate and stop using just one pedal.
It claimed: "e-Pedal technology is the world's first one-pedal operation that allows drivers to bring the car to a complete stop even on hills, stay in position, and resume driving instantly.
"Drivers can cover 90% of their driving needs with the e-Pedal, making the process of driving more exciting. In heavy traffic and during city commutes, drivers will greatly reduce the need to shift from one pedal to the other, making driving simpler and more engaging."
The new system is an extension of a driving mode already available in the first generation Leaf. The gearshift's 'B' position engages stronger regenerative braking (brake lights are activated as necessary) and it is possible to drive the car in stop-start traffic without using the brake pedal at all.
Nissan said e-Pedal technology was another milestone in its plan "to bring accessible, advanced driver assistance technologies to the mainstream".
So far, it has sold 277,000 first generation Leaf models worldwide. The car is built in Japan, the US and England.
Source: Nissan Image Library