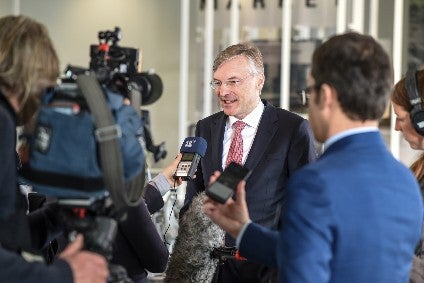 New ZF CEO, Wolf-Henning Scheider has praised his former company for smoothing the process of transition to become head of the Friedrichshafen supplier.
Scheider has been at the helm of the EUR36bn (US$44bn) company for just six weeks and was formerly chairman and CEO of Mahle since 2015. Prior to that he was a board member of Bosch as well being its Automotive Technology business sector spokesman.
"I have come from a great company, it was a good match to come here," Scheider said as he unveiled 2017 EBIT rising from EUR2.2bn (US$2.7bn) to EUR2.3bn, while sales increased 3.6% to EUR36.4bn. "If you see what [I] have done in the last 30 years it was a good and logical step.
"Of course it happens if you know people – that is how it works. I am very grateful Mahle let me go and I am very happy Mahle was understanding because they made the transition very easy. This is not a regular thing and it happened because Mahle was collaborating very well with ZF.
"We have core competence here at ZF. The vision is clear – we want to get to the top of automotive suppliers. What I immediately realised here was in the first few weeks I visited many other locations in ZF – there is enormous competency.
"We want to plan for stability. Of course there will be some changes now and then, but they would have come anyway."
At the annual results day in Friedrichshafen on the shores of Lake Constance in Southern Germany, ZF also revealed it had increased spending on research and development by almost 15% to EUR2.2bn. This year will see some of that spend channelled into electric drive and hybridisation of transmission technology as well as vehicle safety and automated driving.
Also, ZF will continue investing in property, plant and equipment, with two new sites for electric drive components planned.
Despite only being in post for six weeks, Scheider is clearly identifying China as a key country, with that interest reflected in a number of questions being asked live from China to where the annual results conference was being broadcast.
"China is a very important market and we are currently expanding on this market," added Scheider. "Especially after the acquisition of TRW we are expanding our footprint in China when it comes to transmission for example.
"We are also pushing localisation further. We want to produce locally…in China. We have done very well in steering systems and we are building up the next site in China.
"We can sell all our components there and work with local teams. We will also have our R&D centre, not just in Shanghai but also in other locations in China."
Scheider is predicting organic growth for ZF this year of 5%, although the supplier expects to conclude the sale of the Body Control Systems Business Unit to Luxshare, which will result in a proportional drop in sales.