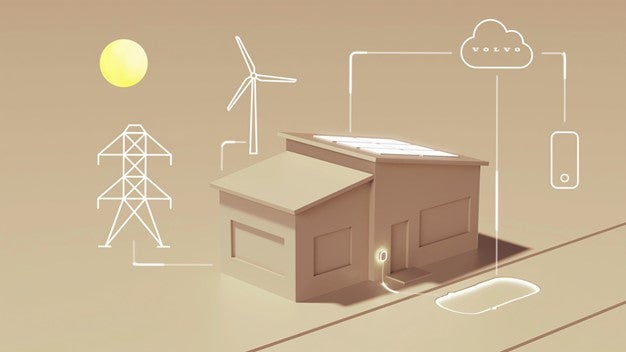 Geely's Volvo Cars said the fully electric EX90, which will be unveiled on 9 November, will be its first car hardware ready for bi directional charging capability "in selected markets".
Paired with smart-charging capability coming to the smartphone app, EX90 owners will be able to charge when demand from the grid and prices are low and save that stored energy to be used later.
The new car could also power a home, as well as other electric devices.
Head of electrification ecosystem Olivier Loedel said: "You could use its battery in many ways, from topping up your electric bike when you're out and about, to hooking up an outdoor cooking appliance for your weekend camping trip. It could even power your house during the expensive peak hours of the day."
The car ultimately will be able to charge other compatible Volvos or vice versa.
Where available, the entire charging process will be automatic and managed entirely by the smart charging functionality in the app, the automaker said. The underlying algorithm also makes sure the battery is charged and discharged in a limited way, reducing the risk of avoidable degradation.
Beyond the grid
Depending on rules specific to each energy market, bi directional charging could also allow customers to support the grid in different ways. This could include taking in more energy during times when there's a surplus of renewable energy, or selling energy back during peak usage hours when there is more demand. If most cars have this functionality in the future, then the grid could be balanced more often. That could increase the overall sustainability of the grid by reducing potential energy waste from renewable sources at times when production outperforms demand.
Volvo plans to offer the hardware for bi directional charging including a wall box and home energy management system. Other accessories such as adapter plugs for appliances and cables for charging other cars will also be available.
"We are currently investigating which use cases we will be able to offer in different markets," the automaker added.
"We will equip the EX90 with the necessary hardware to support the grid, and we are currently assessing in which markets it would be possible to offer this to our customers."