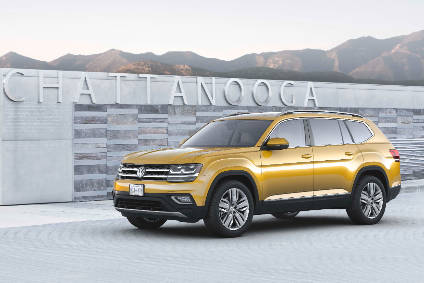 Volkswagen of America has released details and images of the Atlas, a 5m-long SUV to be manufactured at Chattanooga. Its Chinese market counterpart, the Teramont, has been simultaneously revealed by SAIC Volkswagen.
The new SUVs are both seven seaters and their appearance differs only in the details, such as badging. Both Atlas and Teramont will come standard with a 2.0-litre TFSI four-cylinder petrol turbo base engine.
There is also optional six-cylinder power but here, the models differ: the car for China has a 2.5-litre V6, while the Atlas is fitted with the Volkswagen Group's 3.6-litre V6, which Volkswagen of America calls a VR6.
The Atlas and Teramont have been previewed by various concepts in recent years, several of which have had plug-in hybrid powertrains. GTE variants might therefore be added later in these vehicles' lifecycles. The architecture is MQB.
These models share only one main competitor in both countries: the Toyota Highlander. In North America, the Ford Explorer, Jeep Grand Cherokee and Honda Pilot are among the other big selling models which the Atlas is taking on.
The Atlas will go into production at Chattanooga in the coming weeks, with SAIC Volkswagen expected to begin manufacturing the Teramont from early 2017 following the model's debut at the Guangzhou motor show in November.