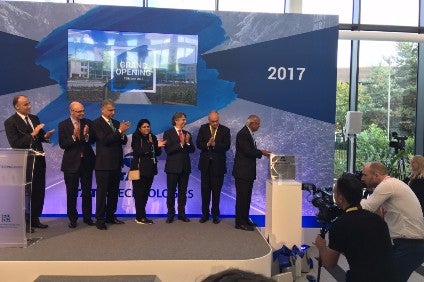 Tata Technologies ' decision to open its new GBP20m (US$26m) Warwick European Innovation and Development Centre (EIDC ) in Britain's Midlands region, is a firm sign of the company's confidence in UK business post-Brexit, says CEO, Warren Harris.
London has today (17 July) started the first substantive talks in Brussels to map out the concrete path it will take to quit the European Union (EU) in 2019, with key issues such as a so-called 'divorce bill' and access to the single market featuring very highly on the agenda.
The UK is in somewhat of a limbo period as the extremely complex details of its extrication from the Brussels club are thrashed out, but Tata Technologies says its decision to inaugurate the EIDC sends a strong signal of its faith in a post-Brexit landscape.
"It is a vote of confidence in the UK, absolutely no question," said Harris at the Warwick opening last week (12 July). "We believe in the talent here. We are in the product development business and customer intimacy is extremely important – being able to [be] local is integral.
"There is no question we are committed to reinforcing our footprint in the [UK] West Midlands. It is going to be our European headquarters. It is not just the opening of a building, it is about how we have got to this point in our journey.
"Our mission is to help the world to fly to drive, to build and to farm; it is engineering a better world."
The EIDC is a GBP20m (US$26m) centre in the British Midlands region, where it partners manufacturing for engineering and product life-cycle management consultancy among other areas.
The inauguration of the EIDC has initially created 200 jobs for design engineers and programme managers in Science, Technology, Engineering and Maths (STEM), but the building has capacity to house 600 staff.
EIDC will house Tata Technologies ' engineering support services, two labs, as well as an R&D centre to develop sectors including automotive, aerospace and industrial machinery.
The building will serve as the company's European headquarters and follows the opening of new delivery centres in Gothenburg and Paris earlier this year.
Despite the current maelstrom of uncertainty swirling around Brexit, Tata Technologies ' new GBP20m centre represents a commitment to the UK, but the company also maintains it has the flexibility to move staff around should the need arise.
"We are committed to the UK business," said Tata Technologies COO, Nick Sale at the inauguration. "We operate a Centre of Excellence structure where people are distributed all over the globe in terms of specialist skills.
"More than likely, if we were to start [a] project and needed to mobilise a team quickly, we would take resources from different locations. We are already thinking of ways round it [any post-Brexit implications]."