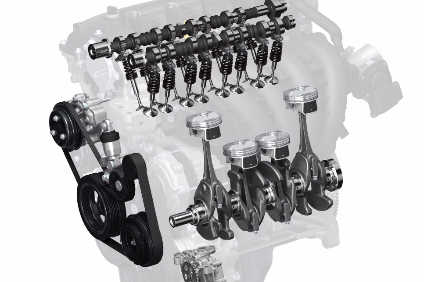 Mazda will reportedly introduce a new engine at the end of 2018 that offers as much as 30% higher fuel efficiency by using pressure, not spark plugs, to ignite fuel in the cylinders.
The Nikkei news agency reports that this will be the first practical application of the technology, called 'homogeneous charge compression ignition'.
The report said that Mazda plans to incorporate the new engine in 2018 in the next Mazda3 (named Axela in Japan). It said the engine technology will then be rolled out to other models. Mazda will position the engine as the second generation of its Skyactiv package of powertrain technology enhancements. Skyactiv is a brand name for a series of technologies developed by Mazda which increase fuel efficiency and engine output. The initial announcement of the Skyactiv technologies included new engines, transmissions, body, and chassis, which appeared in Mazda products from 2011.
According to Nikkei, the new engine ignites the mix of fuel and air by subjecting them to pressure, 'making combustion more efficient than conventional engines using spark plugs'. It also suggests that it reduces exhaust emissions.
The report added that Mazda will start mass-producing electric vehicles by 2019 and plans to have a plug-in hybrid as of 2021.