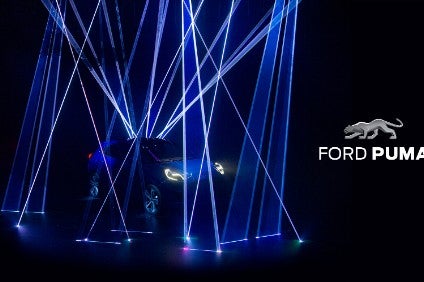 Ford's upcoming Puma compact crossover, which revives a name previously used in Europe for a Fiesta-based coupe and will be built in Craiova, Romania, will have 48-volt mild-hybrid powertrain technology.
The EcoBoost Hybrid will deliver up to 155PS. A belt-driven integrated starter/generator (BISG) enables recovery and storage of energy usually lost during braking and coasting to charge a 48-volt lithium-ion air-cooled battery pack.
The BISG also acts as a motor, integrating with the low-friction, three-cylinder 1.0-litre EcoBoost petrol engine and using the stored energy to provide torque substitution – which reduces the amount of work required from the petrol engine to maximise fuel savings, and torque supplementation – which increases the total torque available from the powertrain for optimised performance.
The Puma, on sale at the end of 2019, joins Ford's expanding line-up of SUV and crossover models in Europe, including the Fiesta and Focus Active (effectively hatchbacks with a higher ride height and some 'off road' trim enhancements), the also Romanian made EcoSport, Kuga [Escape in North America], imported-from-Canada Edge and the redesigned Explorer Plug-In Hybrid.
SUVs now account for more than one in five Ford vehicles sold in Europe, and sales rose more than 19 percent in 2018.