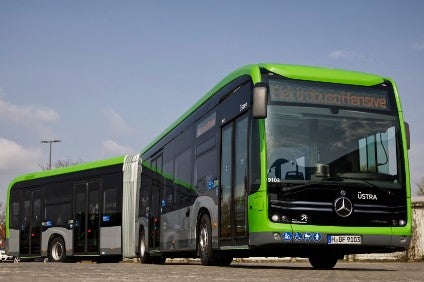 Daimler's Mercedes-Benz has delivered its first eCitaro EV buses with a new type of lithium-ion battery.
The articulated models are part of an order for Hanover transport operator, Uestra.
The initial two have second-generation lithium-ion batteries with capacity about 33% higher so the range between recharging stops is increased "considerably".
The Hanover buses have 10 battery packs with total capacity of 330 kWh and roof mounted pantographs for intermediate charging at the final stop on routes.
Hanover has run buses with the older batteries for about a year and plans 48 electrics on all inner-city routes within its low-emission zone by 2023. The switch-over is claimed to save 3,800 tonnes of CO2 every year.