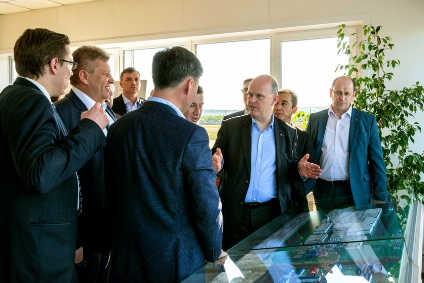 Recently appointed AvtoVAZ CEO Nicolas Maure has outlined plans to expand the company's manufacturing operations in Kazakhstan.
Maure met with the Prime Minister of Kazakhstan, Karim Masimov, as well as the company's local partner, BIPEK AVTO—ASIA AVTO.
The ASIA AVTO plant in Ust-Kamenogorsk city will expand its operation from current 4×4 to Lada Grantam Kalina and Priora in the coming weeks. Production this year is forecast at around 19,000 units.
A new manufacturing plant will be the largest production site of LADA vehicles outside Russia. Start of operation for the new plant is planned for 2018 with initial capacity of 60,000 cars per year and a planned second stage investment taking capacity up to 120,000 cars a year.
Maure highlighted the special importance of Kazakhstan projects for AvtoVAZ strategic plans in CIS and "far abroad countries". "Partnership with BIPEK AVTO—ASIA AVTO is very important for AVTOVAZ because Kazakhstan is the largest export market for LADA today," he said. "We are interested in quick implementation of the common projects and with this purpose I intent to visit the production site, being constructed in Ust-Kamenogorsk, on regular basis. I appreciate the support provided to our common project by Kazakhstan Government," he added.
LADA has a 28% share of the Kazakhstan car market.