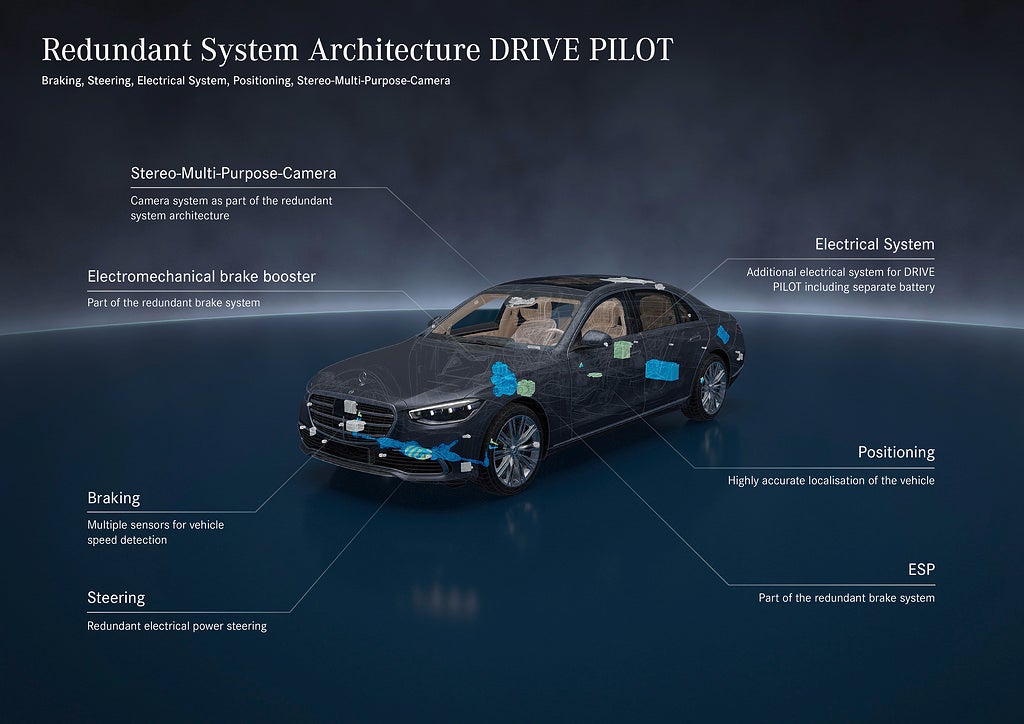 Mercedes‑Benz claimed to be the world's first automotive company to bring SAE Level 3 conditionally automated driving to the US with Nevada being the first state to confirm compliance of the system with state regulations.
This means the brand's Drive Pilot system is the first and only SAE Level 3 system in a standard production vehicle authorized for use on US public freeways. Complying with the requirements of Nevada Chapter 482A for Autonomous Vehicles, the system will allow the driver to hand over the dynamic driving task to the vehicle under certain conditions. The automaker aims to expand to California later this year with certification documents already filed with state authorities.
Drive Pilot will be available in the US market as an option for model year 2024 Mercedes‑Benz S-Class and EQS Sedan models with the first cars delivered to customers in the second half of 2023.
Certification in Nevada marks the start of international rollout and, with it, the dawning of a new era," said M-B CTO Markus Schaefer.
On suitable freeway sections and where there is high traffic density, the autonomous drive can take over the dynamic driving task, up to 40mph. The control buttons needed for this are located in the steering wheel rim, on the left and right above the thumb recesses. Once conditions are suitable, the system indicates availability on the control buttons. When the driver activates the system, its controls the speed and distance and guides the vehicle within its lane. The route profile, events occurring on the route and traffic signs are considered.
The system also reacts to unexpected traffic situations and handles them independently by evasive manoeuvres within the lane or by braking.
Drive Pilot builds on the surround sensors of the Driving Assistance Package and uses additional sensors including LiDAR plus a camera in the rear window and microphones for detecting emergency vehicles, as well as a road wetness sensor in the wheel well. There are also redundant steering and braking actuators and a redundant electrical system so the car remains manoeuvrable if a system fails.
If the driver fails to take back control even after increasingly urgent prompting and expiration of the takeover time, the system brakes the vehicle to a standstill in a controlled manner while engaging the hazard warning lights. Once the vehicle has come to a standstill, the emergency call system is activated and the doors are unlocked to make the interior accessible to first responders.