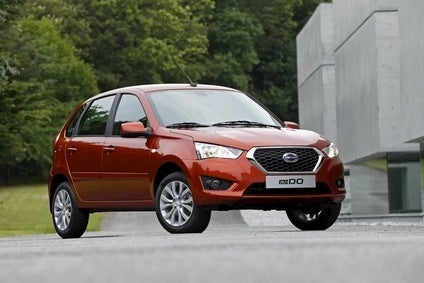 Nissan's emerging markets brand, Datsun, has shown its mi-DO five-door hatchback at the Moscow Show.
The mi-DO hatchback joins the Datsun on-DO sedan (shown earlier this year with customer deliveries to start in September). The mi-DO is planned for market launch in early 2015.
The mi-DO is described by Datsun as a "practical yet sporty five-door hatchback with a strong masculine appearance: modern, robust and confident". The car's 'face' is dominated by Datsun's 'D-Cut' grille.
Although sharing the same wheelbase and front-wheel drive chassis layout as Datsun on-DO, Datsun mi-DO is shorter overall to "emphasise its driving dynamics". Both cars sit on a 2,476mm wheelbase, are 1,500mm tall and 1,700mm wide, but the new Datsun mi-DO is 3,950mm long compared to the Datsun on-DO at 4,337mm.
Datsun mi-DO is described as well equipped. ABS and driver and passenger airbag are standard.
Standard equipment will also include a winter pack with heated seats and door mirrors while special attention has been paid to ensure road, engine and wind noise is kept to a minimum, Datsun says.
Power comes from a 87hp version of Datsun's 1.6-liter 8V engine, while a four-speed automatic transmission is optionally available in place of the standard five speed manual transmission.
Datsun says thare are 25 dedicated Datsun dealers in key regions of the country with 75 more due over the next two years.
"The Datsun concept of offering a new car from a foreign maker at a highly affordable price has struck a chord with Russian car buyers. Datsun might be a new name on the Russian market but its impact will be felt for years to come. Rest assured we are totally committed to the Russian market: our debut at MIAS marks just the beginning of the story," says Vincent Cobee, Global Head of Datsun.
The names Datsun on-DO and Datsun mi-DO reflect the cars' international heritage, encompassing Japanese, English and Russian themes, Datsun says. DO is a Japanese word that means 'moving' and also refers to a 'way' of doing things. 'on' is the Russian word for 'he' while 'mi' sounds to a Russian speaker like the English word 'me' and personalises the car. Put together in Russian, they underline the individuality and personality of both cars, Datsun maintains.