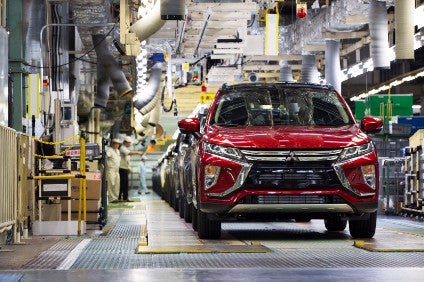 Despite the COVID-19 pandemic in the final quarter, Mitsubishi Motors still managed to make an operating profit in fiscal 2019/20 ended 31 March, 2020.
Sales fell 10% year on year to JPY2,270.3bn and operating profit plunged 89% to JPY12.8bn – the automaker had set a JPY150bn target.
Operating margin was 0.6% compared with 4.4% for fiscal 2018/19.
The company booked a net loss of JPY25.8bn compared with JPY132.8bn profit a year previously.
"During the fiscal year, the outlook for the economy remained uncertain due to the US-China commerce issue. This marked the beginning of a difficult period for the group," MMC said in a statement.
"Under these economic conditions, in order to increase unit sales, the group launched the new Pajero Sport and Xpander Cross models in the core ASEAN region, and worked to maximise the full year contribution of the new kei wagon eK Cross/eK Wagon in Japan."
It said "the impact of the sluggish economy in China" meant automobile demand was weak in its main markets, including trading countries in ASEAN and Oceania.
The impact on the global economy of the expansion of the COVID-19 worsened from the beginning of 2020, and "the market environment worsened rapidly toward the end of the fiscal year".
Retail sales for the fiscal year fell 9% to 1,127,000 units.
"Amid a decline in automobile demand, the entire group worked together to reduce costs in order to improve profitability. However, the sharp decline in unit sales due to the expansion of the COVID-19 greatly exceeded our expectations."
There was no forecast for the fiscal 2020/21 year.
"In some regions, economic activities have begun to resume in stages, but we do not anticipate overcoming and exiting of the COVID-19," MMC said.
"It is extremely difficult to calculate a fair and reasonable forecast because it is impossible to judge the extent to which a business environment with a remarkably uncertain impact on our business performance cannot be determined.
"Therefore, we will announce the forecast for fiscal 2020 as soon as it becomes possible to disclose the forecast."
See also: Big changes for future Mitsubishi models