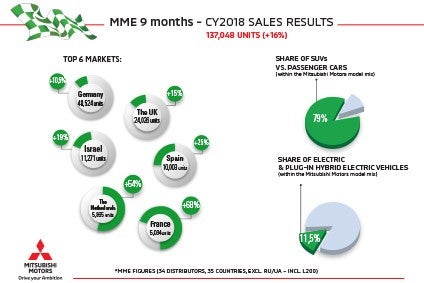 Mitsubishi Motors Europe (MME) said it boosted 2018 year to date sales 16% to 137,048 units versus 117,921 at the same time in 2017.
The company said the rise was due mainly to an expanded line-up (including the introduction of the Eclipse Cross SUV, adding 22,369 sales), continuing Outlander PHEV popularity (up 8% to 14,293 YTD) and "a more proactive sales & marketing strategy.
"This regional progression echoes significant local achievements, with nine of [our] top 10 markets recording an increase," MME said in a statement.
Bernard Loire, MME's new president & CEO, said: "Mitsubishi Motors is on the go in Europe, boosted in particular by the introduction earlier this year of the Eclipse Cross SUV Coupe – an addition to the range targeting a younger and more design-orientated group of customers – and by the continuing success of Outlander PHEV, now one of the very few plug-in hybrid vehicles clearing the new WLTP emission regime with its low 46 g/km.
"At brand level, both cars vindicate MMC's 'SUV + EV' strategy as proved by their respective importance in our sales results – 79% of Mitsubishi vehicles sold in Europe between January and September 2018 were SUVs while electrified automobiles represented a significant 11.5% of the total over the same period."